"On a Mission" is the title of the global campaign for the new BMW X3, which celebrated its world premiere at the International Automobile Exhibition (IAA) in Frankfurt am Main.
Serviceplan Campaign with the team around Managing Directors Markus Koch (consultancy) and Christian Sommer (creation) is responsible for one highlight of the campaign: The Munich experts at Serviceplan Campaign developed a 360° virtual reality test drive on Mars.
The BMW X3 takes customers and fans on the world's first test drive through the breathtaking scenarios of Mars, literally pushing boundaries. The trip to Mars is an immersive experience and features spectacular images and expressive sound impressions. During the realistic virtual reality drive, through the atmospheric and varied surfaces of Mars, the various features of the BMW X3 are presented by BMW Personal Co-Pilot.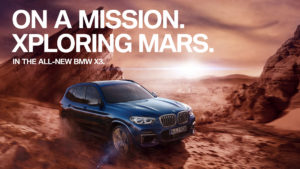 The 360° experience can be used on all popular smartphones via YouTube or on VR headsets, and are integrated in the online channels of the BMW brand. The Mars mission is also used at selected BMW dealerships and BMW branches, through integration at brand events to mailings with Google Cardboard.
"With the BMW X3 Mars mission, we are once again offering our fans and customers a unique experience – something completely new that you won't have seen before," explained Uwe Dreher, Brand Communication for BMW, BMW i, BMW M. "That is marketing as I imagine it: Surprising, modern and with a fun wow factor."
Credits:
Advertising Agency: Serviceplan Campaign, Germany
Managing Creative Director: Christian Sommer
Managing Director Accounting: Markus Koch
Account Director: Leif Call
Text: Roberto Doná
Production: 3DEXCITE
Sound Design: Boris Salchow
Source: Serviceplan Group