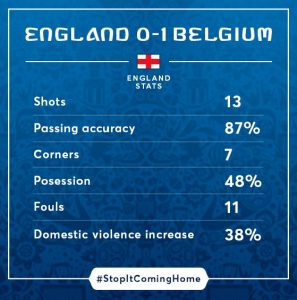 Customer acquisition and engagement agency, Stack, launched its first social media campaign with domestic abuse charity, Solace Women's Aid, designed to raise awareness of rising levels of domestic abuse that are directly linked to England's match results during The World Cup.
Last night people across the world tuned in to watch England ultimately lose against Belgium – for most it was an enjoyable occasion despite the result, but for some it will have had devastating consequences.
According to research from Lancashire University – which looked at domestic violence in Lancashire surrounding England games across the 2002, 2006 and 2010 World Cup tournaments – when England wins a World Cup match domestic violence can increase by up to 26%, and if they lose this increases further to 38%.
As such this campaign aims to raise awareness of the impact England's football results can have on domestic violence by laying out the issue in black and white. It sees Solace posting stats from the match such as shots, passing accuracy and possession, finishing with a shock statistic on the effect the match result has on domestic abuse in the UK, all alongside the hashtag #StopItComingHome. By focusing on the shocking statistics, rather than resorting to shocking imagery, the issue becomes impossible to ignore.
The campaign is being launched organically on Twitter and Facebook, with Solace tweeting high profile opinion formers with a social conscience such as Gary Lineker and Rio Ferdinand, and asking them to retweet the message. The campaign will re-launch after every England game with new stats.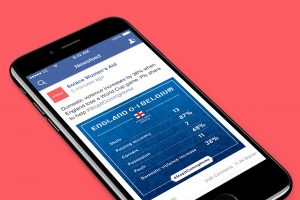 Jane Jutsum, Director of Business Development, Solace, says: "We've been working to support survivors of domestic abuse since the mid-1970s and so we're well aware of the emotional cues associated with wins and losses by international football teams and the complexity of the many risk factors exacerbating the problem. Football matches are one of those risk factors, evidenced by large spikes in abuse following the England games. The campaign is sheer genius, centred on a creative concept that we believe will truly connect with the target audience. And it was all turned around in less than 24-hours."
Iain Hunter, Executive Creative Director, Stack, says: "As soon as we read the harrowing stats on domestic abuse we felt we had a fantastic opportunity to start a bigger conversation around them. Particularly since recent online movements such as #TimesUp and #MeToo have proved that if you can get people talking about an issue, you can get people to change their thinking and ultimately their behaviour. When we saw that Solace were already tweeting about these stats, we knew we'd found somebody we could work with. With the World Cup still in full flow we've designed this campaign to reach male football fans, hence the use of statistics – every footy fan's obsession – so we hope this grabs their attention and sparks a conversation that might otherwise be ignored."
Source: Stack