http://www.youtube.com/watch?v=1T0Ja8PyBDc
Taylor James, integrated creative production studio, has teamed up with agency CDM, New York, to create a fully animated short film for American Heart Association. Launched at the charity's annual gala aboard HSS Intrepid, the animation educates and inspires us to combat heart health through tales of 3 inspirational young heroes.
Designed and produced by Taylor James, the 6 minute animation 'The Hero in All of Us' shares 3 young heroes' remarkable stories of bravery. "The AHA video is awesome. And I use that word to its truest definition" said Stephen Minasvand, Associate Creative Director at CDM. "I was literally in awe at the Gala while watching it, even after seeing it for the umpteenth time… People were welling up in the audience."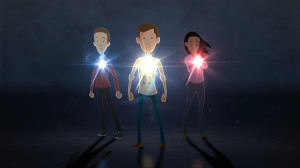 Taylor James' studios in London and New York joined forces with creative team C&C to produce the film 3 months ahead of the gala launch. At concept development and scripting stage, Taylor James had the privilege of interviewing the young heroes in New York. Hearing the inspiring stories first hand helped convey the authentic stories of bravery:
Arnette was enjoying thanksgiving with her dad, one minute he was fine and the next he had a stroke. She recognised the signs and ensured he was safe while dialling 911 – Arnette's quick thinking helped save her dad's life and now she is helping him recover with AHA's support.
Sam's Roof Garden Project makes healthy eating cool with AHA's 'Simple Seven'. Sam's efforts took him to meet President Obama and are helping make a healthier America.
Tommy felt helpless when he saw a cardiac arrest in the street and no-one helped. It drove to him learning hands-only CPR, and in this film he shows you how to do it. He is currently lobbying to get a bill passed to get CPR taught schools across America.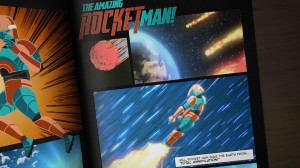 The short combines hand drawn 2D animation with 3D environments and camera moves, giving it a dynamic motion with a sense of depth and action while the character animation retains the charm, warmth and human qualities associated with traditional illustration.
Brendan Haley, Taylor James' Executive Creative Director, says "one of the most interesting aspects of this animation was combining traditional hand drawn 2D animation with 3D camera moves and environments. A good example of this can be seen in Arnette's 'helping hand's scene', where 2D animated characters live in 3D space, interacting with 3D elements."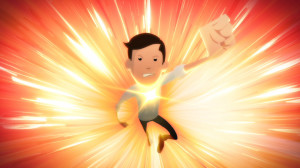 A detailed look behind the scenes of the character development and production process can be found here.
The animated short commenced a moving evening of outstanding tales and presentations aboard the HSS Intrepid in New York, where significant sums were raised in support of AHA's mission 'to build healthier lives, free of cardiovascular diseases and stroke'.
To be a real life super hero, it starts with something small. Taylor James is proud to help CDM and the American Heart Association encourage a new generation of heroes. CDM's Stephen Minasvand ends, "thank you for all the effort, devotion, and passion that went into creating this amazing, awesome piece."