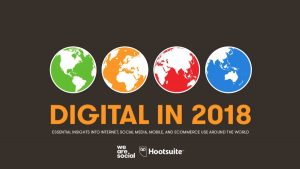 Hootsuite, the most widely used social media management platform, and We Are Social, the global socially-led creative agency, have released Digital in 2018, a report of social media and digital trends around the world. Representing 239 countries and territories, the seventh annual report finds the number of internet users in the world has now surpassed the 4 billion mark, putting more than half the global population online. Of that, social media brings nearly 3.2 billion active users online to connect with each other, consume media, interact with brands, and more.
The 2018 key findings include:
Internet user numbers increased 7 percent in the last 12 months to hit 4.021 billion, or 53 percent of the world's population

Global social media usage has increased by 13 percent in the last 12 months, reaching 3.196 billion users

Mobile social media usage has increased by 14 percent year over year to 2.958 billion users, with 93 percent of social media users accessing social from mobile

Internet users are projected to spend a combined total of 1 billion years online in 2018, of which 325 million years will be spent on social media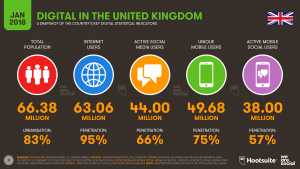 95 percent of the UK population now uses the internet, an increase of 5 percent compared to the previous year. Social media users grew by 5 percent in the past year, now accounting for almost two-thirds of the population. Brits spend almost six hours online every day, with a third of that time spent using social media.
The report also found that global growth of the internet is propelling e-commerce forward, with 1.77 billion internet users purchasing consumer goods online in 2017, an increase of 8 percent compared to a year ago. Collectively, consumers spent a total of USD $1.474 trillion on e-commerce platforms in the past 12 months, 16 percent more than in 2016.
"With four billion people now online, connectivity is already a way of life for most of us. However, as internet companies strive to serve the next billion users, we'll see important changes in digital over the coming months. Audio-visual content will take priority over text – especially in social media and messaging apps – while voice commands and cameras will replace keyboards as our primary means of input. Social relationships and online communities will evolve to accommodate these new ways for people to interact with each other. This will result in rich new experiences for all of us, but businesses need to start preparing for these changes today," said Simon Kemp, Global Consultant, We Are Social.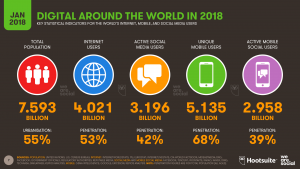 "The Digital in 2018 report highlights the continuing growth of the internet and social media to individuals and businesses around the world. This dynamic has forever altered the customer journey as consumers and B2B professionals increasingly conduct research, make buying decisions, seek support, and recommend brands online. To achieve competitive advantage, all executives must dive deep into digital now, meeting their customers where they are to best market, sell, and serve them," said Penny Wilson, CMO, Hootsuite.
Source: We Are Social