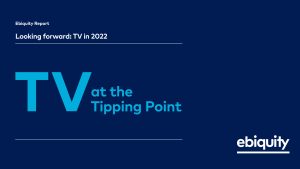 Leading independent media and marketing consultancy, Ebiquity, announced the release of its newest report "TV at the Tipping Point." The report evaluates key trends in linear TV and considers the implications for the future of TV advertising.
Ebiquity's analysis suggests that the market is soon approaching an inflection point.
The consultancy predicts that by 2022 there will be a 15% to 20% decline in TV ad viewing across adults, with even steeper declines of between 30% and 45% for key audiences 'Housewives with Children' and 16-34 year olds, respectively.
These changes will put pressure on ROI. In a world where linear TV audiences are shrinking, rising costs will threaten the ROI primacy of live linear TV within the next five years.
In this report, Ebiquity have called on the UK TV industry to do more to advance a 'transparent and unified' audience measurement framework, which will allow advertisers to plan for these changes.
Christian Polman, Chief Strategy Officer at Ebiquity commented: "Netflix, Amazon Prime and other streaming services are changing TV, with far reaching implications for advertisers and broadcasters. Our evidence suggests that as of today no other single media line is ready to 'take the crown' from broadcast TV, however advertisers should continue to review the evidence and adjust their marketing strategy when necessary."
Source: Ebiquity