[KGVID width="600″ height="338″]https://marcommnews.com/wp-content/uploads/2016/03/Uniqlo-311-Oxford-Street.mov[/KGVID]
UNIQLO unveiled its relaunch campaign for their flagship store as well as their ambition for the store to become a cultural hub on Oxford Street through partnerships with the Tate Modern and NTS Radio as well as a series of exclusive events.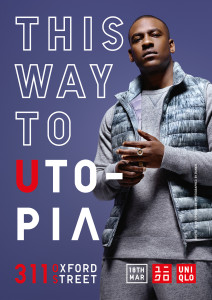 Fast Retailing's Creative President, John Jay, said, "London is a very important market for any global retail business. It is the most diverse city in the world which makes it a creative and cultural utopia and we want to celebrate this and be part of it."
The campaign, called This Way to Utopia, is a celebration of the vibrant cultural scene in London. It was conceived and produced by Faster Horses, a creative partnership founded by award-winning creative directors Sam Walker and Joe De Souza, and will include a roadblock TV ad and Oxford Street takeover.
Sam Walker of Faster Horses said, "It's exciting to work on a great brand that's not afraid to keep moving, evolving and challenging perceptions."
The TV advertisement will air on 13 March, taking over a two and a half minute break during 'Indian Summer' on Channel 4. Bold and stylised, the film features some of the UK's best young contemporary dancers, shot beautifully against unexpected locations around London. The choreographer was Lukas McFarlane, who won Sky 1's 'Got To Dance' TV dance competition. The soundtrack is 'Madeleine' by Konstantin Sibold.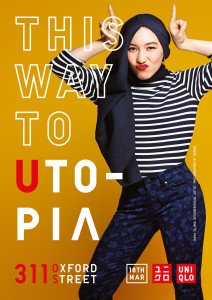 The out of home campaign will feature six cultural ambassadors, chosen by UNIQLO and reflecting the outstanding creativity, positivity and diversity of London in 2016 – all shot by world-class photographer, Rankin:
Skepta is a rapper/songwriter/producer and one of the most prominent artists in the UK grime scene, currently making an impact globally with his Boy Better Know label, which Grammy award-winning rapper Drake joined last month.
Hana Tajima is a Muslim designer/visual artist and blogger who produced a well-received collection for Uniqlo last year and is widely respected amongst the fashion community.
Munroe Bergdorf is a transgender model/activist and DJ, who also works in fashion and is involved in raising awareness of transgender issues.
Benji B is an influential DJ and record producer. He is known for his late night BBC Radio 1 show and for creating the station's most downloaded podcast. He also runs and DJs at the Deviation Sessions club night in London, and has produced for Kanye West.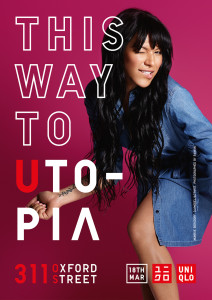 Sean Frank is a respected filmmaker and visual artist, working with fashion brands and musicians, as well as on a number of personal projects.
Cate Underwood is a successful London-based photographer and model, and winner of the Bazaar Fashion Forward awards 2010.
The out of home campaign will comprise 6-sheet posters running the length of Oxford Street and a takeover of Oxford Circus underground station. This activity was teased by a huge mural outside the 311 store, created by Jean Jullien, the illustrator who created the iconic Paris peace symbol following the recent Bataclan incident.
Beyond the launch campaign, UNIQLO also announced their partnership with the Tate Modern museum. UNIQLO will be the official sponsor of the Tate Modern's re-launch weekend in June and will also be the sponsor of a new Tate Modern event called 'Uniqlo Fridays', a series of late night events at the Tate Modern on the first Friday of every month starting in October. As well as the sponsorship, the Tate Modern will be curating quarterly events in the 311 Oxford Street store.
Additionally, the store at 311 Oxford Street will also host monthly events in partnership with East London-based internet radio station NTS, including a summer barbecue on the rooftop.
Other monthly cultural events will include a talk from Olympic gold medal-winner Victoria Pendleton, and a yoga morning with Madeleine Shaw, both in April.