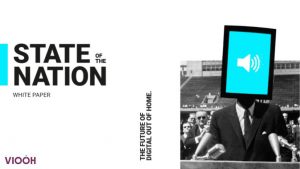 VIOOH, the global marketplace for out of home (OOH) trading, releases the results of its research project looking into the future of digital OOH (DOOH).
It's a great story to tell – advertising's oldest medium is becoming its most exciting new channel. In an era dominated by digital and shaped by technology, OOH is transforming and bringing incredible new levels of innovation, effectiveness and efficiency.
During Q1 of 2019, VIOOH commissioned an in-depth qualitative research project, interviewing at length senior executives working across the outdoor and programmatic advertising landscape – to discover the state of the nation for programmatic DOOH. VIOOH asked; what opportunities are they most excited about, what challenges does the medium face, and why, even, programmatic at all.
The results are revealing. Our experts all agree that technology will help grow the medium, although their views of how, when and perhaps why differ. Certainly, the introduction of programmatic technology to outdoor will help make it more accountable and accessible, more flexible, and more creative. Automation, and in turn, programmatic, then promises to take the best of outdoor – and enhance it.
In the full report, VIOOH outline some of the biggest opportunities and challenges for digital and programmatic out of home in the years to come.
Key findings include:
Outdoor will continue to grow, fuelled by digital growth and, increasingly, programmatic trading and technologies
Automation and efficiency are cited as key reasons why programmatic will resonate with advertisers. Programmatic methods offer more flexible trading with a wide range of enhanced targeting and data triggers
Following this first wave of programmatic trading, practitioners are expecting to see more reliance on bidding techniques
Accountability, measurability and accessibility are expected to open up DOOH to a new generation of brands
Creativity will be boosted by data-driven content powered by contextualised insight and situational triggers, increasing relevance and impact
Outdoor has always complemented other media. Now digital and programmatic technologies are amplifying mobile, social, TV and most recently, audio and enabling a unified strategy across the whole digital ecosystem
Perceived challenges include a fragmented marketplace and metrics which differ from established programmatic norms, in a one-to-many, not a one-to-one, medium
Sue Hunt, Chief Revenue Officer, VIOOH, said "Our research shows that there is a healthy appetite to use DOOH and the new, evolving programmatic tools to provide a best-in-class environment for both brand building and activation activities. It's important to focus on the positives of programmatic and redefine the expectation: flexibility of budget allocation and execution, efficiencies of technology and application of data, a premium, transparent marketplace, and most of all, making DOOH accessible to digital buyers. Ultimately, we're better together and the OOH industry needs to collaborate to grasp the opportunities that automation and programmatic bring. Together we can make marketing strategies more aligned across mediums to deliver unified and memorable brand experiences for those who matter the most – the consumers."
Source: VIOOH