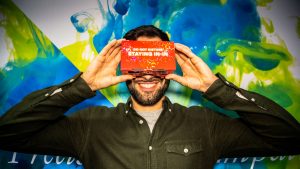 Virgin Media gave TV fans a unique glimpse of 2019's Virgin Media British Academy Television Awards, with a 360 live stream from the red carpet, a robotic photo experience capturing beautiful shots of guests, behind the scenes interviews with award winners and the chance to win tickets to 2020's BAFTA TV Awards.
As part of its sponsorship of the Virgin Media BAFTAs, Virgin Media used innovative 360 technology to capture the action from every corner of the red carpet and to give thousands of TV fans the chance to get closer to the glitz and glamour than ever before. Three 360 cameras were positioned along the red carpet to create an immersive view with live commentary from TV favourites Scarlett Moffatt and Tom Read Wilson.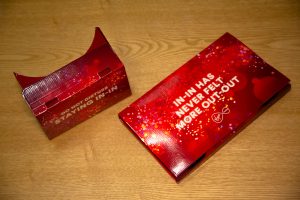 Inspired by the pivotal role TV viewers have played in the television revolution, Virgin Media is using Google cardboard VR headsets to give TV fans a live, virtual walk along the red carpet, all from the comfort of their sofas – the ultimate 'staying in-in' experience.
Virgin Media customers who received the Google cardboard and VR headset were able to enjoy unprecedented access to the red carpet via their mobile. Scanning the QR code brought users to the Virgin Media YouTube channel where they livestreamed a complete 360 VR red carpet experience by placing their mobile devices in the Google cardboard.
Virgin Media also created RoboPap, a fully robotic camera arm which was placed in the midst of the red carpet buzz, to capture high definition photos of guests as they arrived and content that was livestreamed for viewers on Virgin Media's social channels.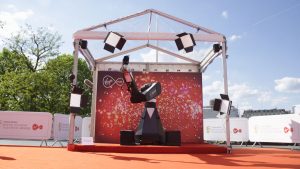 RoboPap was designed around the world's fastest Cinebot – used across music videos and Hollywood films for precise camera moves at ultra-high speeds. Virgin Media's unique twist on this technology meant that RoboPap was able to make noises and engage with guests as it takes their photos.
This immersive red carpet experience for TV fans watching at home didn't end there. Those who watched via the 360 live stream are also in with the chance of winning tickets to next year's BAFTA TV Awards via an interactive competition live from the red carpet. To enter the competition viewers simply needed to lookout for letters hidden within the stream and comment on Virgin Media's Twitter post when they have completed the hidden word.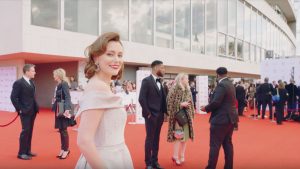 Sid Gordon, Creative Director at RAPP UK said, "We're proud to continue to evolve the red-carpet experience for viewers and the stars alike. No more canned questions and basic hand-on-hips posing—we are bringing authenticity from the top of the red carpet all the way to the door for our customers through a revolutionary, immersive experience."
All interactive content was made available on Virgin Media's Instagram, Facebook and Twitter channels from 12 May.
Source: RAPP UK