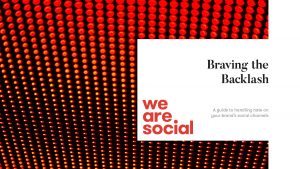 Following months of research, global socially-led creative agency We Are Social has launched 'Braving the Backlash' – a new report which aims to offer practical advice on how brands can approach sensitive issues in their marketing, and properly manage hate speech and negativity online.
Hate on social media is a growing issue, and when the problem is examined more closely, it soon becomes clear that it affects all marginalised groups across racial, religious, gender, physical ability and sexual divides. Yet, despite being in a powerful and influential position, brands and advertisers shy away from speaking out against this behaviour, as they often fear the possibility of backlash when trying to challenge it.
Having conducted interviews with community representatives, brands and organisations from across the industry, We Are Social's new report warns against widespread practices such as community managers simply deleting or ignoring hate comments, rather than proactively addressing the behaviour.
'Braving the Backlash' explains why all brands need an anti-hate policy, how to create one, and where to display it. The report also introduces a new 'Three Rs Model' to help brands and community managers successfully categorise and respond to hate speech online.
Charlie Cottrell, head of editorial at We Are Social in London said: "We're increasingly seeing more and more brands taking part in diversity campaigns – be this around inclusion or minority issues – but in taking this stance, there is the risk of hateful comments seeping into brand communities online. 'Braving the Backlash' aims to help businesses overcome this troubling issue, and to help more organisations be able to stand up for what they believe in – with an effective plan of how to address any negativity online."
Jim Coleman, UK CEO at We Are Social commented: "As we (as an industry) continue to look at how we improve diversity and inclusion, both in our workforce and in our campaigns; we felt there was a knowledge gap in how negativity around diversity issues can be properly managed. This is an incredibly important issue, both for brands and marketers – and for the individuals affected by this kind of behaviour online – and we are enormously proud to be able to launch a tool to help tackle this issue."
The 'Braving the Backlash' report is free to download, and is available here.
Source: We Are Social