To honour an epic and unique journey ahead of 2019's Wimbledon finals, and to celebrate the four finalists who have made it through the Fortnight, the AELTC has teamed up with McCann London and Craft London to create a new 60-second film, "The Coin Toss". 
Narrated by AELTC Chairman Philip Brook CBE, this unique film tells the story of how a chance conversation turned into a space mission, and will be distributed globally on TV and online to promote the Finals Weekend on Saturday 13 and Sunday 14 July.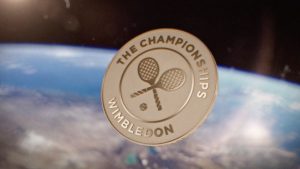 Every match has a coin toss, and every coin toss features a coin. But the coins that will be used for the coin tosses at this year's Championships' Finals have travelled to space and back. NASA Astronaut Drew Feustel visited The Championships 2017 with his wife Indira and fellow astronaut Tim Peake, and it was then that he and Philip Brook CBE, Chairman of theAll England Lawn Tennis Club (AELTC), came up with the idea to take a special pair of coins from Wimbledon with him aboard his six-month long mission.
And so, as the film shows, the two coins were made, travelling from SW19 to the International Space Station, with Feustel interviewed live from space during The Championships 2018. Back on earth and back at Wimbledon, Feustel will hand over the coins to the two young people selected to perform the coin toss at the Ladies' and Gentlemen's Singles Finals, before watching both finals from the Royal Box as guests of the Chairman. 
Marni Johnson (aged 13) will perform the coin toss at Ladies' Singles Final on Centre Court on Saturday 13 July, representing Regenerate, which works with disadvantaged young people and families in Roehampton and estates across London.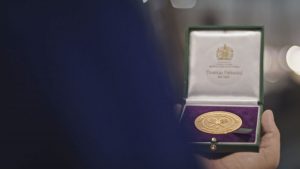 Omar Popal (aged 14) will take part in the coin toss ceremony at the Gentlemen's Singles Final on Sunday 14 July, representing the Prince's Trust, which helps young people aged 11 to 30 who are struggling at school or unemployed, to develop the confidence and skills they need to live, learn and earn.
Regenerate and the Prince's Trust were nominated by the Wimbledon Foundation, the official charity of the All England Club and The Championships.
Philip Brook CBE, Chairman of the AELTC, commented: "Wimbledon has a long and rich history, and this new expedition is very symbolic for us. From year to year, there is so much change. It is a constant, continual improvement, for both the players and the Club. The journey of the coins, as reflected in our new film, and the young people we select to perform the coin toss, symbolise our collective pursuit of greatness – and we are thrilled to be showcasing this amazing story for this year's Finals."
Source: McCann London