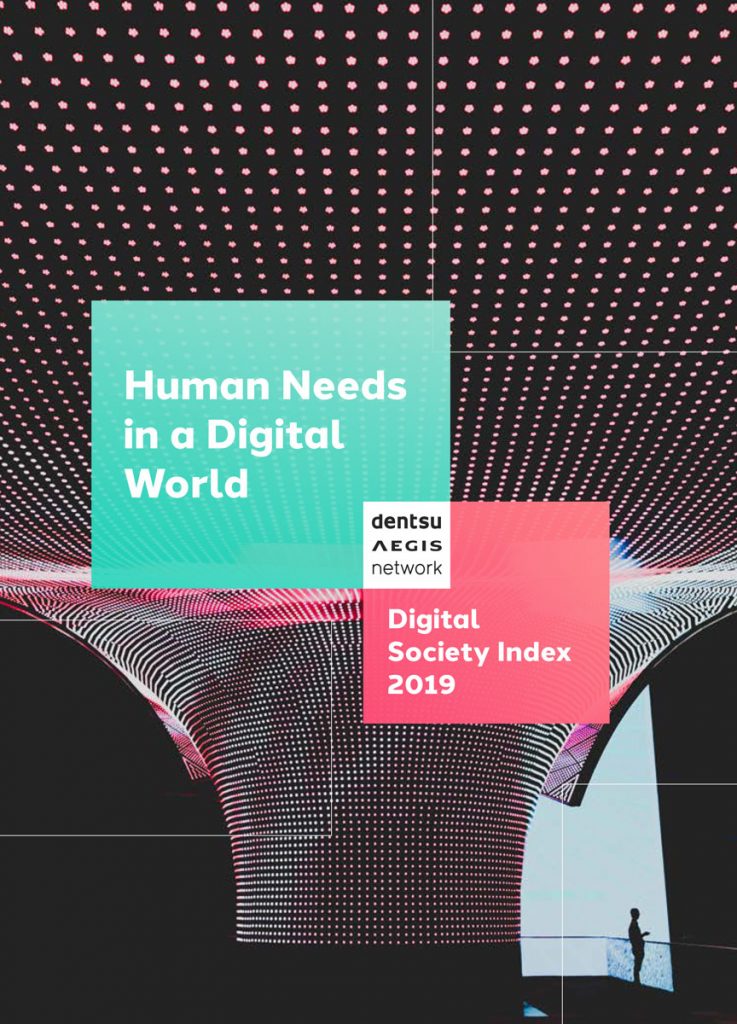 Despite being a part of the world's most dynamic digital economy, U.S. consumers have the least amount of trust in businesses and a greater propensity to protect their data, per The Digital Society Index 2019: Human Needs in a Digital World. The global study, released by leading advertising and digital communications group Dentsu Aegis Network, polled 43,000 people globally in conjunction with Oxford Economics.
From an economic standpoint, the U.S. is the most dynamic followed by Singapore, the United Kingdom and Germany. The study finds that:
77% U.S. consumers are more likely to shop online.
70% are more likely to watch TV via a streaming device.
60% are more likely to use an app to conduct their banking or manage their money.
Yet, despite these positive indicators, U.S. consumers have shown the greatest proclivity for reducing the amount of data shared online. Nearly half of respondents (45%) have taken steps to shrink their online footprint in the past year. The reason why: Only (41%) of consumers trust that businesses holding their personal data will protect their privacy.
Today's Digital Consumer Has Taken Back Control
While just a couple of years ago consumer understanding of how digital businesses used personal data was generally poor, the study reveals people are becoming remarkably mindful and critical of data management by public institutions and private companies.
Currently, three quarters of U.S. consumers say they would stop doing business with an organisation that misused their data, representing the most prominent driver of distrust. These concerns go beyond the tech industry: all businesses deploying digital products and services find themselves under a similar level of scrutiny.
In addition to this, there is rising concern about the impact of digital on health and quality of life:
Only 30% feel digital positively impacts their health and well-being, compared to 44% globally.
Most Americans (60%) agree social media has had a negative impact on political discourse — this is 15% higher than the global average.
Despite the fact that digital technologies can help connect people and foster a sense of community, the trust and well-being factors are notably prompting people across the globe to seek a healthier balance of digital media consumption. According to the study, 72% of U.S. consumers have taken some step to limit their digital activities, 24% have installed ad blockers and 12% have deactivated a social media account.
Consumers who are taking back control through actions like these, in ways that could have negative implications for brands, have in fact a higher propensity to use digital products and services (e.g. shop online, use an app to take a taxi or stream music). In other words, research shows people embracing digital are most likely to push away from it. It creates significant implications for brands, businesses and governments in terms of how they engage with consumers through digital channels.
Optimism About the Future of the Digital Economy
Against this backdrop of falling trust and the new consumer behaviour, the Digital Society Index reveals also varying levels of optimism around the digital economy.
While the potential benefits of digital are huge, people's digital needs are largely not being met.
Fifty-seven percent of U.S. to feel their basic needs (digital access and trust in data use) are not well addressed. This is higher than the global average of 51%. In regard to self-fulfilment (skills, education and jobs), 46% of Americans felt digital was meeting their needs which was on par with the 45% global average. The U.S. was, however far more positive about their societal needs being met (44% felt this was true compared to only 32% globally.) Still, the study revealed widespread concerns:
Nearly half (47%) of Americans agree that not enough is being done to ensure digital technology benefits everyone in society rather than a select few.
Only 40% are optimistic that digital technology will solve the world's pressing challenges.
Only 28% of respondents believe digital technologies will create jobs.
Yet, despite it all, the majority (67%) of Americans feel the positive impact of digital technology has on society outweighs the negative impact.
Dirk Herbert, U.S. Chief Strategy Officer, Dentsu Aegis Network, commented: "This study should serve as a wakeup call. With digital optimism fading, business as usual is not an option. Marketers need to acknowledge consumer concerns regarding both data and the speeding train that is technological advancement. It is up to all of us to embrace consumers' evolving attitudes towards trust and transparency, and their desire balance in their lives, so we can better meet consumer needs and effectively engage them. This will help to not only build stronger brands and stronger relationships, but also a stronger society where of optimism and opportunity can thrive."
Source: Dentsu Aegis Network