Leading insurance provider Progressive, and Arnold Worldwide have unveiled a new campaign featuring record-setting Cleveland Browns quarterback Baker Mayfield, for a new interpretation of an athlete-brand partnership.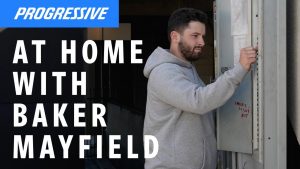 As part of the holistic marketing partnership, Mayfield and his new wife, Emily Wilkinson, will become the newest members of Progressive's acclaimed "network" of marketing campaigns and characters that includes beloved icons like Flo.
The series will officially "kick-off" in line with the start of the NFL season, with spots ranging from :15, :19, :23 and :30 sec on both national television and digital channels with two new cuts rotating in every two weeks for the duration of the season.
A real-life Progressive client, Mayfield was tapped as their latest partner because he offered something special and unique to the storied brand. After quickly becoming a household name to sports fans across the country by breaking the single season record for the most passing touchdowns by a rookie quarterback, Mayfield's connection to Progressive felt natural, especially due to Progressive being one of the leading businesses in the Cleveland metro (coincidentally headquartered in Mayfield, OH).
Arnold Worldwide and Progressive approached the 'athlete-as-spokesperson' model differently, taking a more modern, content-rich and episodic approach that's more characteristic of today's network shows than ads in the insurance space.  
The season-long series doesn't follow the traditional model of making a group of ads and then releasing them in a single batch. This "season within a season" episodic content campaign will unfold gradually, almost as a traditional storyline on TV would.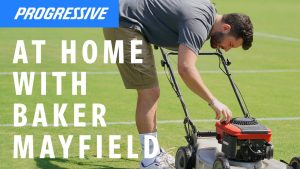 "At Home With Baker Mayfield" will provide glimpses of the uniquely relatable, mundane aspects of homeownership – from mowing the lawn to fixing plumbing issues. Even if, in this case, Baker and Emily live in a stadium. 
The understanding of life's moments like these connects back to Progressive's offerings that range from auto to home insurance options like HomeQuoteExplorer (HQX), which allows customers to quickly compare and purchase homeowner's insurance. 
The Mayfields join iconic Progressive storylines such as the long-running Superstore campaign featuring Flo, the parent-leeching Baby Man and Rebel characters, the animated talking Box voiced by SNL alum Chris Parnell, the mythical half-man, half-motorcycle Motaur character, and the "we all become our parents" Parentamorphosis troupe.
Source: Arnold Worldwide