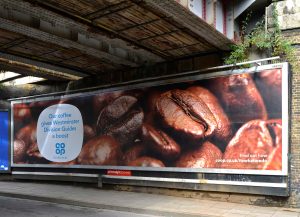 Co-op launches new 'out of home' for summer using its first hyper-local approach to champion its investment in local communities. The new hyper local out-of-home (OOH) sees bespoke creatives linking the community where the message appears with the causes funded by the Co-op's three businesses – Food, Funeral and Insurance.
This innovative approach delivered in partnership with out-of-home and location marketing specialist Posterscope and media agency Carat, supports Co-op's multi-million-pound advertising campaign "It's what we do".  
The campaign, which was created by Lucky Generals, is the first time all three of Co-op's modern businesses have been brought together into one overarching marketing strategy. 
In support, Co-op's OOH marries commercial and community messaging and features real-life beneficiaries of Co-op's Local Community Fund and other initiatives that Co-op supports. For example, a food advertisement features the message 'Our tea gives Warrington Mencap a break'.
As a business Co-op exists not only to make profit by doing good things, but also to do good things with the profit it makes: 'stronger Co-op and stronger communities'. Co-op does this because it champions a better way of doing business and has been doing so for over 175 years. 
The OOH has been carefully planned and the creative focus for Food and Funeral links to the proximity of the stores and funeral homes whilst for Insurance, the focus is on where Co-op is most competitive.
This tailored, hyper local communication, in a predominately classic OOH campaign, has required the development of the Print IQ technique to produce nearly 150 separate local messages. Posterscope's location planning tool ECOS has identified which frame to use where to enable placement of the relevant local message in the right frames in the heart of communities across the UK.
Lee Mabey, integration Strategy Director at Posterscope, said: "OOH reaches into the heart of communities across the UK. Using an innovative printing technique, Co-op is able to offer relevance at scale while delivering hyper-local messages that connect people with the good causes that they care about."
Kate Lunt, Client Director at Carat, added: "Not enough people understand just how different Co-op is.  We've been able to use the breadth of the good that the Co-op does using real-life examples that will connect with the nation and show that when you choose Co-op, your community benefits too. To drive ultimate relevance at scale, we're ensuring that every media channel has a layer of personalisation and storytelling built in.  This is the first phase of One Co-op communications and we're eager to push media boundaries to create meaningful connections, earn people's attention and transform more communities as we go."
Jo Langley, Campaign Manager at Co-op added: We're really excited to be able to target our key audiences with a hyper local message that is relevant to them and their community."
Source: Posterscope