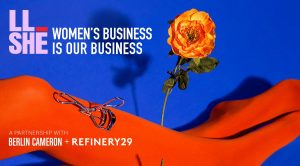 Refinery29, a leading media and entertainment company for young women, and creative agency Berlin Cameron, part of the WPP network, announced the results of their inaugural "This is Women's Work: Stepping Up Startup Culture" study around the rising generation of female entrepreneurs, women's experiences in the startup world and key issues around access to capital.
Inspired by key findings from the study, Berlin Cameron and Refinery29, in collaboration with social entrepreneur, Dee Poku and strategist, Serena Saitas, are announcing LLShe, a platform designed to mitigate the significant gender gap in funding and raise awareness around the unique barriers women face in the investment community. The results of the study were released at CES 2019 at The Female Quotient's signature event, The Girls' Lounge.
According to the "This is Women's Work: Stepping Up Startup Culture" study, women are transforming startup culture by emphasising social good and diversity, and tapping into community resources. When identifying key motivators for entering the startup workforce, women rank being "part of something for social good" at the same level of importance as their personal salary and entrepreneurship.
Conversely, men consider "high salary potential" to be of greater importance. Seventy-seven percent of women who are aspiring to work in startups say, "I want to work for a company that promotes ethnic diversity" and women currently working in startups are 66 percent more likely than men to say they were motivated to join the company for the "opportunity to fill the ethnicity representation gap."
"As the largest economic force in the world today, women are now claiming their power to effect change in industries where female and minority voices are underrepresented," said Ashley Miles, Chief Client Officer and Head of Advertising, North America, Refinery29. "We're excited to launch the LLShe platform in conjunction with this annual study that will celebrate female entrepreneurs, giving them a global platform to launch and scale their businesses both online and offline. Additionally we will be continuously tracking women's impact on evolving the startup culture into a more inclusive, purpose-driven experience."
When seeking capital, women are most likely to tap into community support and women-specific funding networks.
The #1 tactic women have found most useful in their fundraising is utilising women-owned-business grants or loans while the #1 tactic for men is general networking at events.
Women are twice as likely as men to have found a crowdfunding platform useful in fundraising and are 27 percent less likely to have utilised a personal loan.
When identifying their greatest hurdles during fundraising, women cite "male investors not understanding my idea" while men cite "investors questioning my sales numbers."
Women are 40 percent more likely to cite "anxiety over gender discrimination" as an emotional hurdle while fundraising.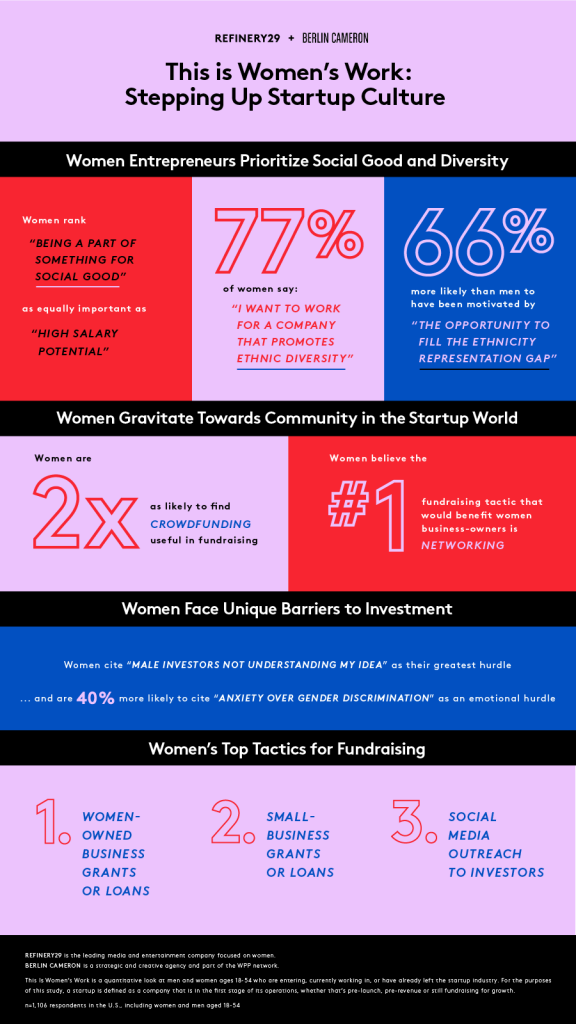 "Female-founded businesses are still not getting the support they need; in fact, only 2.2 percent of venture capital dollars went to businesses founded by women in 2018," said Jennifer DaSilva, President, Berlin Cameron. "LLShe was built to grow the women-driven economy and change the disconnect in the leadership level of the business and investment community. By driving sales and awareness to women-led businesses through branding and advertising support, LLShe will find creative ways to scale and make all women's business our business."
With the help of sponsors, LLShe is intended to be the largest initiative of its kind, helping to support and grow women-led businesses through commerce, and has been conceived as a three-part platform.
The first will feature mass-scale pop-up shops of women-founded companies in cities nationwide.
The second is an online shopping destination on Refinery29 that will allow consumers to easily shop female-founded businesses in a dedicated place.
The third will be an educational component where women can learn about launching their own businesses and hear from other female founders.
LLShe is designed to be supported by a unique set of brand partners that believe in championing women-led businesses. According to a previous study conducted by Berlin Cameron, Ellevate Network and Ripple Street Research, 83 percent of women want to buy products from companies that are female-founded but 62 percent don't know where to find them. The LLShe platform offers a solution.
The "This is Women's Work: Stepping Up Startup Culture" research was conducted in December 2018 and included a quantitative study of 1,000+ men and women ages 18-54 that are either entering, currently working in, or have left the startup industry. For the purposes of this study, a "startup" was defined as a company that is in the first stage of its operations, whether that is pre-launch, pre-revenue or still fundraising for growth.
Source: Refinery29