On July 7th, 2017, Sofía Gómez, a Colombian athlete sponsored by BBVA bank, dived 84 meters into the sea to establish the new world record for apnea, a sport scarcely heard of and rarely practiced in the country. During her incredible underwater achievement, she successfully held her breath for 2 minutes and 45 seconds.
In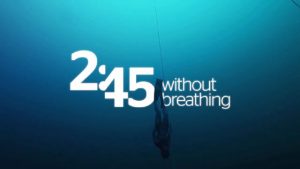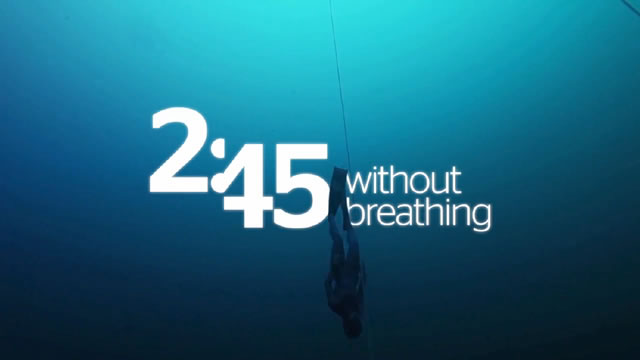 order to turn this record of a relatively unknown sport into a proud record of an entire country, DDB Colombia published an ad in the most important newspaper in the country, El Tiempo, which took the same time (2'45") to read as Sofía spent immersed underwater during her record-breaking dive.
The ad challenged Colombians to read it while holding their breath, mark their own personal record on the page, and then post a picture to their social networks with the hashtag #BBVAconSofia (#BBVAWithSofia). The ad also invited people to visit a site where they could read the text online, mark the time they read till without breathing, and share their record to their social networks.
The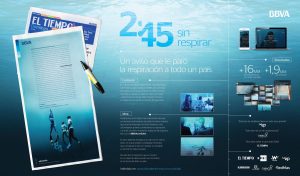 innovative campaign reached 1.9 million readers in 24 hours, achieved 16 million impressions on social networks in just one weekend, and was a trending topic for an entire day.
Leonardo Macias, Chief Creative Officer, DDB Colombia, said, "The ad was created to celebrate the new apnea world record that was achieved by a Colombian athlete sponsored by the BBVA. The bank sponsors the athlete under the belief that everyone can have the opportunity of achieving their dreams.
"Apnea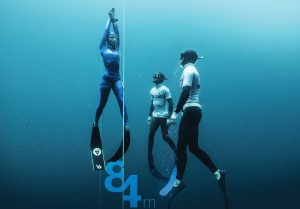 consists of immersing into the ocean while holding your breath, and that gave us the idea to let people feel what Sofía felt when achieving such a record. We decided to create an ad with a story that takes 2'45" to be read, and we challenged people to read through it while holding their breath. We thought that having people feel what the athlete felt would serve as tribute to the athlete herself, plus it would give importance to the sport within Colombians.
"The biggest challenge in creating the campaign was to get as many Colombians as possible involved in a record in a sport that not many people knew of, just through a single ad."
Johnatan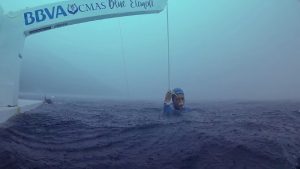 Cuervo, Marketing Manager at BBVA, said, "This execution exceeded our expectations. The brief was simply to create a press announcement where we shared the good news (the new apnea world record achieved by an athlete that BBVA bank sponsors), and we ended up having a trend topic ad that everybody in Colombia was talking about, engaging with the challenge, and sharing how far they were able to read."
Credits:
Client: BBVA Colombia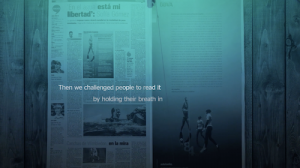 Product: Institutional
Agency: DDB Colombia
CEO: Borja de la Plaza
CCO: Leo Macías
VP Digital: Joanna Safi
CMO: Magda Galindo (BBVA)
Creative Directors: Juan Cárdenas / Carlos Agudo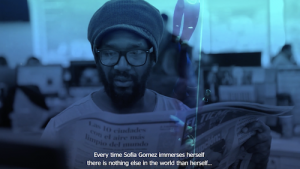 Copywriters: Natalia Prias / Laura Garrido
Art Director: María Hernández / Miguel Van Bommel
Motion Designer: Johan Coy
UX Director: Carlos Ballén
Web designer: Juan Pablo Ángel
Developers: Julián Valencia / Sebastián Parra
Social Media Manager: Verónica López
Quality Assurance: John Alfonso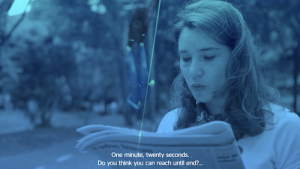 Graphic Designer: Jacobo Morales
Account Directors: Manuel Leal / Tatiana Castellanos
Planning: Jorge Becerra / Diana Henao
Marketing Directors: Cristal Idárraga / Jaime Espinosa (BBVA)
Agency Producer: Darío Lozano / Andrés Mejía
Director: Juan Camilo Pinilla (Akira)
Production Company: Akira
Photographer: Kalindi Wijsmuller
Source: DDB Colombia