On August 14, INNOCEAN Worldwide India (IWI) announced that an episode of "Celebrating 20 Years of Brilliant Moments with Hyundai," a campaign that commemorates the 20th anniversary of Hyundai Motor India (HMI), exceeded 210 million views on YouTube.
This video called "Father and Son", set several new records since its release on YouTube. In particular, it became the most-viewed campaign video in India, reaching over 200 million views in less than two months. In other words, one out of 6.5 people in India — a nation with the world's second-largest population — watched this video.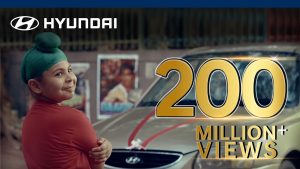 In the episode a son, in the process of disposing of the family's old Hyundai Accent, realises the value of precious memories with his father.
He is willing to sell the old Accent despite his father's objection. However, when he shows the vehicle to a prospective buyer, the son accidentally finds a toy he used to play with, inside the car. Remembering the toy, the son comes to understand his father and hugs him, saying, "When I added 20 years of memories… our car didn't fit the budget."
An IWI staff member said, "From the moment of its release, the video received positive feedbacks from local media and internet users in India, and the number of views skyrocketed."
The film not only achieved the title of the most-viewed campaign video in India, but also became the new No.1 content among Hyundai Motor Group's entire ad contents. Following "A Message to Space" (71 million views) in 2015 and "Shackleton's Return" (188 million views) in 2017, the episode also achieved the title of "most watched video among automotive campaigns."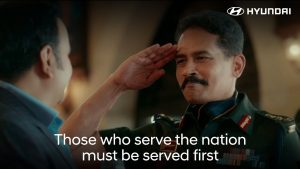 "20 Years of Brilliant Moments" campaign is designed to revive the precious memories of 5.5 million consumers who have been with Hyundai Motor over the 20 years. Hyundai entered the Indian market in 1997 and became a national brand.
An IWI staff said that "Hyundai Motor was able to receive the support of Indian consumers, as affection for the brand and trust in the products have been building over the last 20 years. This campaign is even more meaningful since IWI was the first overseas operation established by INNOCEAN."
SM Talha Nazim, Executive Creative Director at IWI, who directed the campaign, said, "We focused on moving stories, directing, and visual style to capture the beautiful memories of the past 20 years with Hyundai and its customers in India."
Along with this series, IWI plans to hold an integrated marketing campaign including events to engage local consumers. IWI will collect customer stories from those who have owned Hyundai vehicles including Accent, i10 and Santro over the past 20 years, via online, radio and car dealers. Ten stories will be selected and then made into a series of online videos.
In addition to "Father and Son," IWI launched the second episode of the campaign, "The Soldier's Mission", last month, and this video is going viral as well with over 14 million views. This episode tells the story of a new officer who manages to arrive safely at his first post. After his train broke down, the officer gets off the train and is trudging to his destination. Luckily, he runs into a citizen driving a Santro, who forgoes his own schedule to give the officer a ride to the post. This video is also receiving positive comments such as "it inspires national pride" and "this year's most moving commercial."
Videos of "20 Years of Brilliant Moments" can be found on HMI's YouTube channel.
Source: INNOCEAN Worldwide India