Jaguar, which signed as an official partner of Wimbledon, has kicked off a social media campaign using biometric sensors to analyse the mood of fans.
It has dished out biometric wristbands to selected fans watching the tennis and has built in-ground sensors monitoring the energy around the courts, letting it track sentiment.
It will measure information from the atmospheric sensors that will collate crowd movement, audio levels and infrared and data from the biometric wristbands, which capture heart rate, movement and location around the grounds, plus sociometric tracking from social media to get a live picture of mood.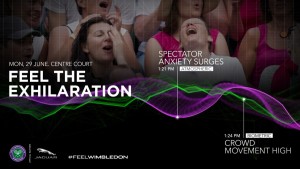 Every day during the tournament, tennis fans can access live updates of the mood and crowd emotions via Jaguar's UK social media channels.
Laura Schwab, UK marketing director at Jaguar Land Rover, said: "Wimbledon evokes lots of emotions and captures our imaginations in so many different ways, so we're very excited to celebrate what makes Wimbledon so special."
Schwab added: "With 500,000 people attending Wimbledon this year, it provides Jaguar with incredible exposure in London, and a fantastic platform to showcase our products, especially the Jaguar XE."