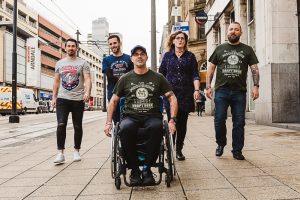 Debenhams has just reported that in the five years since it started supporting Help for Heroes, it has raised an incredible sum reaching over £2.3m.
So, at the retailer's store in Market Street, Manchester, Debenhams participated in Help for Heroes' new '40,000 Strong' campaign by allowing the charity to 'take over' two of its windows – giving shoppers a big surprise by having a team of 'live' mannequins in its window display.
These included veteran amputees and fashion influencers who also used Manchester's streets as a catwalk to launch the new Debenhams men's and women's ranges in aid of Help for Heroes.
The live mannequins included five veterans and family members who have been supported by Help for Heroes, posing alongside Manchester fashion and lifestyle influencers including fashion blogger, Domain Esdale, and Craig Monaghan who is a rugby player in the Sale Sharks and England Deaf Rugby teams.
Together, they were raising funds and awareness of the work Help for Heroes does to support wounded and sick Servicemen and women, while encouraging people to buy one of Debenhams' Help for Heroes fashion products either instore or online, with all profits from these purchases going directly to the charity.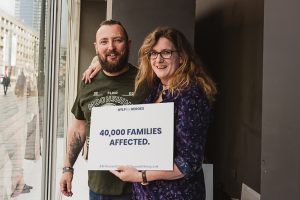 The veteran model team featured triple amputee Dave Watson who lost both legs and an arm when he stepped on a hidden bomb in Afghanistan in 2010, John Murphy who was medically discharged from the Army after suffering a back injury and his wife Laura, Lee Patmore who was forced to leave the Royal Navy after damaging his back whilst training, Kieran Wood who has a traumatic brain injury after being involved in a car crash during his first day of R&R when he came home from his tour of Iraq, and Charley Tysler who was medically discharged from the Royal Navy after suffering a knee injury during training, and now also works at Help for Heroes.
The men were modelling items from Debenhams' new must-have range of five Help for Heroes t-shirts, priced at £16.00. They are made from 100% cotton and feature fashionable graphics inspired from vintage Americana. The women were wearing the first women's fashion products created for Help for Heroes by Debenhams, which are two ¾ sleeve corduroy dresses featuring cute prints, available for £39.00.
This activity demonstrated the retailer's continued strong support for Help for Heroes, 'doing its bit' to help the charity build awareness of the campaign which features an installation of 40,000 model soldiers on display in the Arndale Centre in Manchester. This represents the number of people from the Armed Forces who have been medically discharged in the past 20 years.
Mel Waters, CEO at Help for Heroes, says: "We are very grateful to Debenhams for the great support of their staff and customers since 2014 in raising such a fantastic amount. We are delighted with the way in which they have embraced our 40,000 Strong campaign and it's been great to see our live mannequins really turning heads."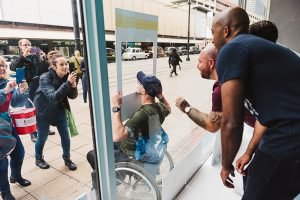 Debbie Whiting, Store Manager at Debenhams Manchester, adds: "The new Help for Heroes campaign has an important message and by having veterans and influencers in the window we created a real buzz around it in an impactful way. By showing off the cool t-shirts and dresses that raise money for Help for Heroes we hope to sell a lot more so that we can help even more Servicemen and women and their families."
Help for Heroes' '40,000 Strong' campaign highlights research carried out by the charity which shows that 70% of its beneficiaries who were surveyed who had gone through the medical discharge process had a negative or very negative experience. It is therefore calling for the government to review the process and ensure that everyone who goes through medical discharge has the right support they need to ensure a positive experience as they transition into a life on civvy street. 
Source: Debenhams