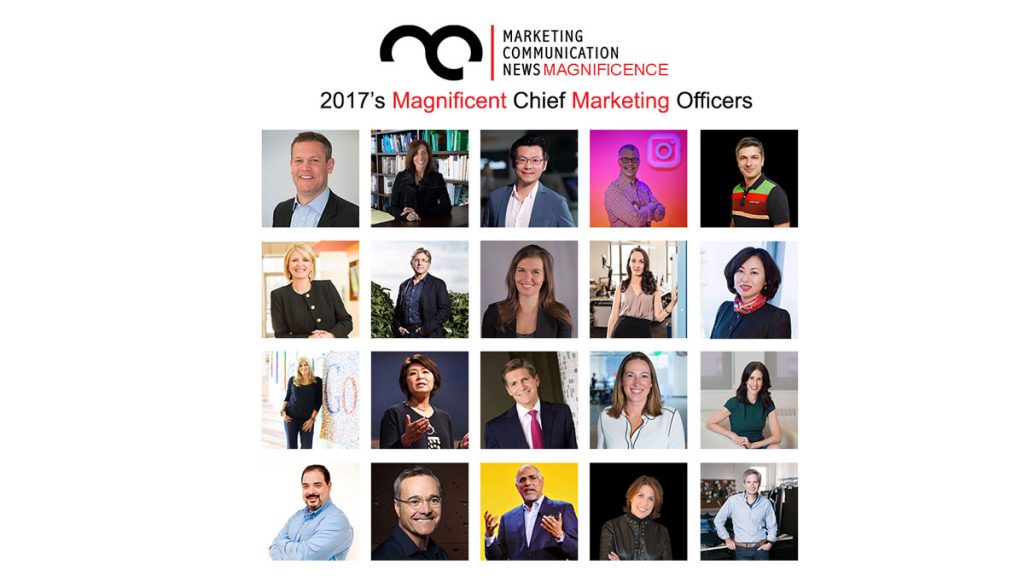 MarComm's Magnificence is a series where we highlight Magnificent individuals from the Marketing, Design, Advertising and Communications industries.
In this magnificence list, we are spotlighting those individuals who provide the business to the creative industry, while protecting their brand's image and interests. We look at the Chief Marketing Officers (CMO's).
So without further ado, here are our picks (in no particular order) for 2017's Magnificent CMO's: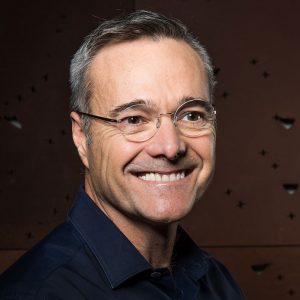 1) Neil Lindsay, CMO at Amazon
Unlike most people, Neil Lindsay starts off his day by going over customer reviews and emails. In 2016, Amazon brought in over $130 billion so Neil Lindsay has an enormous task at being the company's Chief Marketing Officer and Vice President.
According to Lindsay, Amazon is focused on the customer experience and customer trust.
"Letting people know when we might miss a delivery promise or when they bought something they could have bought cheaper, or refunding quickly from a bad experience – these small things among many others, have been the right thing to do and have resulted in immeasurable gains."
Neil has been widely recognised as a standout CMO. He has an uncanny ability to absorb customer, market and financial insights and use them to define an organisation's best path forward.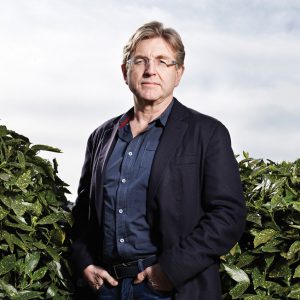 2) Keith Weed, CMO and Communications Director at Unilever
On any given day 2.5 billion people use Unilever products and the man behind the marketing and communications for them is Keith Weed.
In his role, Keith has claimed that his strategy was to reduce Unilever's environmental impact, helping to engage consumers and employees.
Being the CMO of Unilever, Keith believes that brands must be citizens and contribute to the sustainability of the earth. He is a fellow of the Marketing Society and the Institute of Mechanical Engineers. In addition, he is a board member of the World Economic Future Consumption and Global Chairman of the Positive Change Effie Award.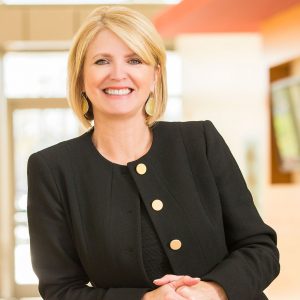 3) Karen Walker, CMO and Senior Vice President at Cisco Systems
Karen Walker has over 20 years of experience in the IT industry. Recently, Walker led the global Go to Market organisation, responsible for creating and delivering the integrated global marketing plan for the company.
She has been recognised for her integrated marketing and communications approach from brand to demand. Walker was awarded for Cisco becoming emotionally connected with customers.
With her mother as a role model, Karen is a member of Advancing Women Executives in Silicon Valley and a board member of the IT Services and Marketing Association. In Karen's free time she mentors women in a program called the Cisco Connected Women. She believes that women need to encourage one another and come together.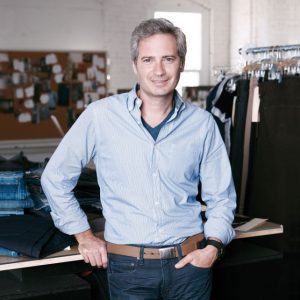 4) Seth Farbman, CMO at Spotify
Starting out as a News Reporter, Seth Farbman made the right decision to change career paths.
Farbman joined Spotify in 2015 from GAP, where he was global CMO.
He helped Spotify activate partnerships with companies like Starbucks and Twitter.
Spotify is the largest music-streaming service in the world and Seth has the responsibility to handle all marketing and external communications worldwide, across over 50 countries and more than 75 million users.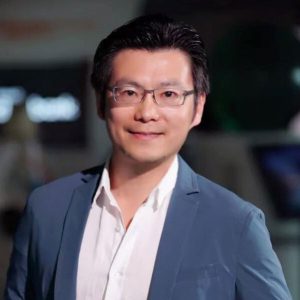 5) Chris Tung, CMO at Alibaba Group
In 2016, Chris Tung joined Alibaba Group as the Chief Marketing Officer. Clearly Tung made a good impression because in just a year he was also named President.
Interestingly, Chris's background was originally in electrical and industrial engineering. Since 2014, Alibaba is the world's largest online B2B trading platform for small businesses.
Recently, Chris has expanded the company to also help brands market and sell to customers. This process has been much more engaging to customers.
Thanks to the help of Chris, Alibaba is able redefine itself with the launch of Uni Marketing.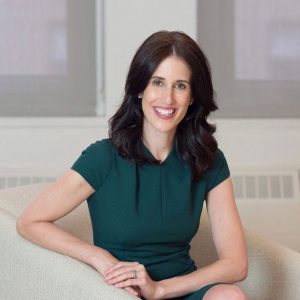 6) Michelle Peluso, CMO and Senior VP at IBM
Michelle Peluso is the first chief marketing officer for IBM. She was chosen for her motivated and transformative powers. She is known for her expertise in customer focus. She understands that users expectations for technology and interactions have shifted.
Peluso has quite the resume previously serving as a Venture Partner, executive advisor at Technology Crossover Ventures, Board of Directors at Nike and CEO at Gilt.com.
She was one of the youngest CEO's in American corporate history in 2002 when she became a major player at Travelocity. In addition to being wonder women she is known for bringing home-baked brownies and her focus on family.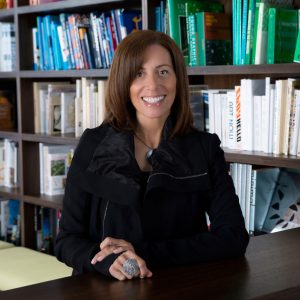 7) Ann Lewnes, CMO and Senior VP at Adobe
Before Adobe, Ann Lewnes worked 20 years at Intel making her way up to Vice President. Now at Adobe she is CMO and Senior VP.
Ann has admitted to her passion for creativity and media as being her drive for her groundbreaking marketing campaigns. Lewnes has been recognised as one of the world's most innovative CMO's by Business Insider, Forbes, and Adweek to name a few.
Ann also serves on the boards of Mattel and Ad Council. However, she said if she was not at Adobe she would be a roadie for a band. This is fitting because one of Adobe's most inspiring commercials featured rock band, Imagine Dragons. The music video was such a big hit that the company received over 9000 entries that also created a community of younger users on social media.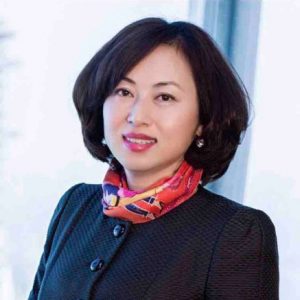 8) Lijun Sun, Global VP and CMO at SAP
As head of marketing, Lijun Sun is responsible for branding, sponsorship and all demand generation activities for SAP Greater China. Such is her dedication that she translated an advanced analytics book into Chinese to deepen her understanding.
Lijun has greatly elevated the SAP brand awareness and contributed to double-digit growth in the company.
In a world lacking women CMO's, she is extra special in that she is also from China. Lijun has won several awards and been published in leading magazines on data-driven marketing, culture and leadership.
An interesting fact about Sun is that she has deep insights into the Chinese market and motivated to see digital transformation.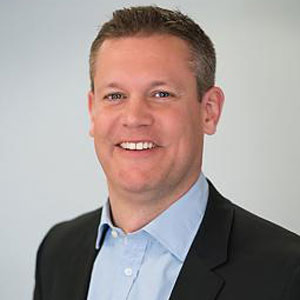 9) Andrew Clarke, CMO at Mars, Incorporated
Andrew Clarke has been at Mars Inc. since 2000, making his way up to Chief Marketing Officer.
Starting out as a Sales Leader to director, then manager, then finally all the way up to CMO in 2017.
Clarke is a big believer in that marketers and brands must fight back against orthodoxy. He pushes the agencies to be more creative.
Andrew is focused on connecting marketing and strength in sales. He is looking to do big things in reaching customers in purpose driven marketing.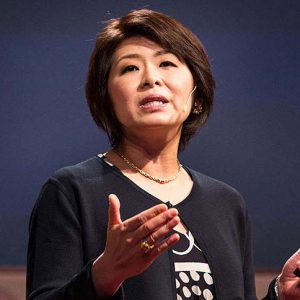 10) Makiko Eda, VP, Sales and Marketing Group, and President of Intel
For the past four years, Makiko Eda has been the President of Intel Japan, VP of sales and the CMO. Eda finds passion in her work through her mentorship and motivation to invest in the best talent through diversity and inclusiveness.
She is the first female chief for Intel which is huge! Makiko graduated from Waseda University in Tokyo when the Equal Employment Opportunity Act for Men and Women had just been enacted.
Eda manages all aspects of brand and promotions marketing strategy, and execution for Intel. She is passionate about making Intel a global organisation and creating career paths for international employees. She is motivated by helping create a valuable and distinctive worldview.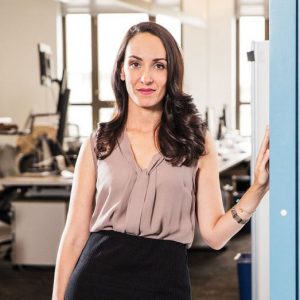 11) Leslie Berland, CMO at Twitter
In 2016, Leslie Berland left American Express as their EVP to become the CMO of Twitter. She has extensive experience building partnerships like Apple, Uber, and Google.
Berland was especially motivated by Twitter's ability to connect and communicate in a special way. According to Leslie, the power of twitter lies in its openness.
In addition to her crucial role at Twitter, Leslie serves as a board member for Make-A-Wish and Ad Council.
Working at Twitter has forced Leslie to simplify communications and strategy. The company focuses on simplicity, this is done by delivering an intuitive ideas and breakthrough experiences.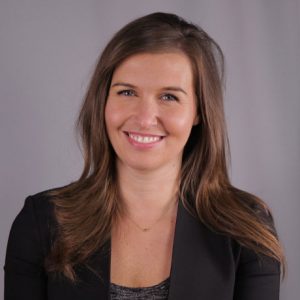 12) Laura Henderson, SVP of Marketing at BuzzFeed
Laura Henderson has only been at BuzzFeed for a year, after being at Mondelez International for about eight years. Laura was brought to BuzzFeed for her innovative approaches that foster collaborative co-creation between brands and their partner agencies.
She has already shaped BuzzFeed brand for clients and its audience, including its franchises and shows like Tasty, Nifty, and The Try Guys.
Laura had award winning work at Mondalez and we expect nothing less with her work at BuzzFeed.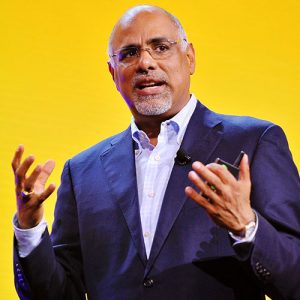 13) Raja Rajamannar, Chief Marketing and Communications Officer at MasterCard
Raja Rajamannar is the CMO at MasterCard and the President of its healthcare division. Raja's role is to drive business for their products, and services and advance sustainable competitive differentiation for the company. Internally, MasterCard is merging the culture of old marketers with contemporary culture to capitalise.
Raja believes that customers are not interested in advertising, and instead want to experience brands.
For example, the Priceless Cities website lets cardholders buy experiences like food tastings. In addition to his crazy job, he serves on the board of PPL Corporation, Cintrifuse, Ad Council, and the Association of National Advertisers.
According to Forbes, Billboard, and iMedia, Raja is one of the world's most influential CMO's.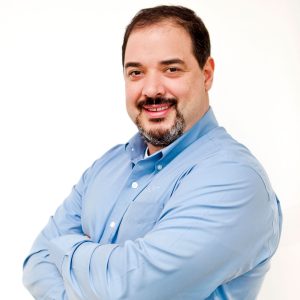 14) Miguel Patricio, CMO at AB InBev
Miguel Patricio is a Portuguese citizen that holds a worldly viewpoint. He has held several senior positions throughout the Americas and Asia Pacific, with previously stints as Vice President of Marketingat AB InBev in both North America and Shanghai.
We're sure you have all seen the "Dilly Dilly" ads for Bud Light recently. Patricio says it represents the fun and nonsense that connects people to brands.
In addition, Patricio oversaw the Budweiser brand replace their name with "America". He also played a big role in the NFL sponsorship limited-edition cans. Patricio has what we call mad skills in the creative beer-marketing sector!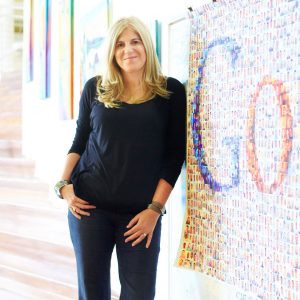 15) Lorraine Twohill, VP of Global Marketing at Google
Google recently overtook Apple as the world's most valuable brand and Lorraine Twohill is responsible for managing their marketing team in more than 30 countries.
Interestingly, Lorraine was the first marketing hire from outside the US. She is at the centre of all decisions about what products to market in different countries and what approaches work.
Twohill developed the company's in-house agency Creative Lab, which was made to expand new products like Google+ and Google Glass. She is known for saying "know the user and know the magic and find a way to connect the two."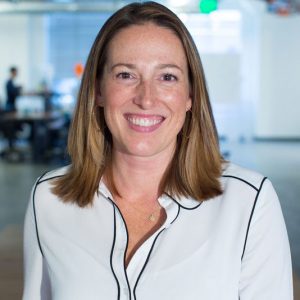 16) Melissa Waters, VP of Brand Marketing at Lyft
From Boston Landmarks Orchestra, Home Depot, Cisco, to UrbanSitter Melissa Waters has jumped around industries quite a bit.
In 2016, Melissa landed at Lyft as the VP of Marketing. In just over a year she has transformed Lyft to a leader in its category. Under her leadership Lyft launched their first fully integrated marketing campaign.
Melissa's first day at Lyft she was promoted from CMO to VP.
Michelle Obama is one of Melissa's inspirations in that she has become a guiding light and inspiration to girls and women all over the world. Waters' defines herself as fearless and bold. She has succeeded in leveraging a strong network of mentors and team members to get extraordinary results and innovations.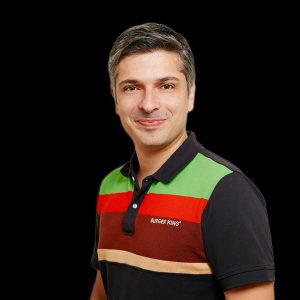 17) Fernando Machado, CMO at Burger King
In 2017, Burger King were named Cannes Lion's Creative Marketer of the Year. The man behind the marketing is, Fernando Machado. He was involved in memorable campaigns like McWhopper and the Anti-Bullying PSA.
After 18 years at Unilever, Machado left as the VP of Dove and decided to join the creative teams at Burger King. The new ads are driving a sales revival and BK is seeing the brand get stronger.
Machado is described as someone who is hyper aware of creative talent, trends, and award winners. In honour of International Peace Day, Burger King teamed up with five companies to serve the burger at a co-branded pop-up store in Atlanta and all the proceeds went to NGO Peace One Day.
Machado has been behind some of the most iconic developments for the brand and we see only more award-winning work to come.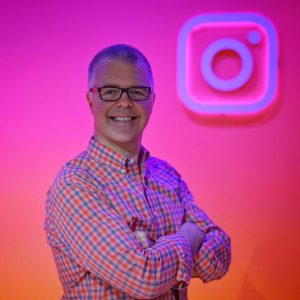 18) Cliff Hopkins, Global Head of Marketing at Instagram
800 million – That's the number of people who use Instagram. It has become one of the most loved brands in the world in its power to strengthen relationships through shared experience.
Cliff credits his experience at UMass Boston for his discovery of acceptance and universal encouragement. Interestingly, after school Hopkins went into public policy working for the Department of Health and Human Services.
After that, a hop, skip and a jump he transitioned into marketing because of the exciting Internet growth in the 90's. He went from Executive director at AOL, to Senior Director at Paypal, to Global marketing director at Google. Part of the amazing growth Instagram has had in 2017 is credited to Hopkins. The brands monthly users increased by 100 million due to Instagram Stories.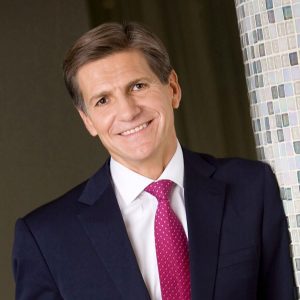 19) Marc Pritchard, Chief Brand Officer at Proctor & Gamble (P&G)
Marc Pritchard has been with Proctor & Gamble since 1982! He is on the front-line of the company's diversity efforts and is known for pushing campaigns that promote gender diversity and combating racial bias. In addition, Marc pushed for the iconic slogan "Proud Sponsor of Moms". Pritchard has been a key player in the growth of the company. 70% of P&G's top 20 brands have had growth or held market share in the past year.
Marc has been recognised as a power player in the marketing industry. He serves as a board member for the Association of National Advertisers, Ad Council, American Advertising Federation and Indiana University Kelley School of Business. He is a busy man juggling a hectic schedule and a crazy family!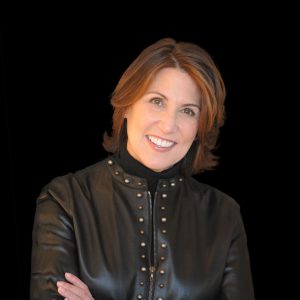 20) Roxanne Taylor, Chief Marketing and Communications Officer at Accenture
22 years is how long Roxanne Taylor has been with Accenture. She leads a team of over a thousand marketing and communications professionals. In particular, she has revamped the fixture of B2B advertising by using different strategies.
Although Taylor is retiring in August of 2018, her work and Accenture's rapid rise in the Marketing sector, is worth recognising. Her honours include Advertising Women of New York, Fierce CMO's, and Forbes to name a few. Roxanne is on the Business Committee of the Metropolitan Museum of Art and board of Only Make Believe.
Article by Mackenzie B. Rice, MarComm News