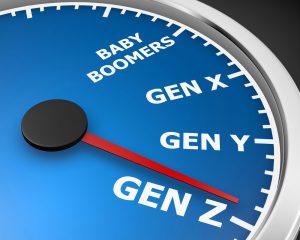 A new study by data specialists Wilmington Millennium reveals that Millennials and Generation Z are the most empowered age groups when it comes to protecting their personal information. Sixteen to thirty-four year olds are the most likely to act on the powers afforded to them by GDPR.
Almost half (48 per cent) of Generation Y and Z have taken some action since GDPR was introduced last May, including requesting their personal information is deleted by an organisation, finding out what personal data is held on them by an organisation or contacting the Information Commissioner's Office (ICO) to make a complaint. By comparison only a quarter of Generation X and a third of Boomers have taken similar steps.

Millennials are most likely to ask for their information to be deleted, with one in three saying that they have already done this. This rises to one in five for the rest of the population. Generation Z are the most likely to both request a data audit (15 per cent compared to an average of nine per cent) and complain to the ICO with 18 per cent saying they had contacted the Information Commissioner to register a data breach or data processing concern. This compares to just 7.5 per cent for the remainder of the population.
Boomers were the least likely to take any action with only one per cent saying that post GDPR they had contacted the ICO, three per cent claiming that they had contacted a business to find out what information is held on them and 15 per cent requesting that their information was removed from a marketing database.
Comments Karen Pritchard, Director, Wilmington Millennium: "It is interesting that it is the younger generations that are actively protecting their personal information, rather than the older age groups who have been campaigning for greater control over their data rights for years. The discrepancy between the ages groups is significant – for instance 18 per cent of Generation X versus one per cent of Boomers making a complaint to the ICO. Despite this, it shows that GDPR is having a positive impact with consumers becoming increasingly data savvy. This is a good thing as our research shows that the majority of people now believe that marketing communications are better than they were prior to the 25th May 2018."
Source: Wilmington Millennium