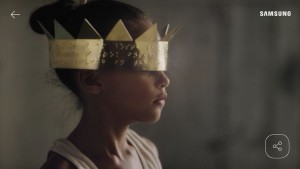 Samsung has partnered with Rihanna for a new campaign teasing the release date of her forthcoming album through an immersive online experience.
Those curious to know when the pop star will release her eighth studio album, titled 'Anti', will have to successfully complete a number of cryptic puzzles on antidiary.com using their mobile devices to uncover clues relating to the date.
The campaign features a virtual reality-like experience where users are taken to a child's bedroom and can look around by moving their phones. Other parts of the trail include videos with quickly flashing images and snippets of instrumental music.
72andSunny's New York office worked with RocNation as well as Samsung's partner agencies, RGA, Edelman, PMK BNC and theater company Punchdrunk to create the immersive online experience.
Samsung has posted a number of enigmatic tweets for the campaign using the hashtag #ANTIdiaRY.
Are you in? #ANTIdiaRy https://t.co/OGdovYaOIT

— Samsung Mobile US (@SamsungMobileUS) November 23, 2015
Marc Mathieu, chief marketing officer of Samsung Electronics America, said: "In today's cluttered world, it's important to break out and create unique, personal experiences that people are seeking in order to connect directly with consumers." He added "we know that one of our consumers' passion points is music so we decided to join forces with Rihanna because she is an icon of originality and ingenuity and one of the most wildly creative voices in culture today."
Wander into the dream. What will you find? #ANTIdiaRy pic.twitter.com/k1xb2ee1w2

— the keyholder (@IAmTheKeyHolder) November 23, 2015
It comes as part of Samsung's $25m deal with Rihanna to sponsor her upcoming album and tour and follows on from a similar partnership in 2013 with Jay-Z which offered customers exclusive behind-the-scenes videos and early downloads of his Magna Carta Holy Grail album.
The time is nearing. Her world awaits. #ANTIdiaRy pic.twitter.com/VroCkqTyRj

— the keyholder (@IAmTheKeyHolder) November 23, 2015