PSI, Posterscope's international division, and Vizeum have deployed a special digital out-of-home (DOOH) experience for The North Face to bring the launch of The Pinnacle Project to life in London. The project launched with a Mountain Festival in Val San Nicolò in the Italian Dolomites where The North Face revealed the company's most iconic mountain pop-up store ever, a gruelling two-hour hike from the festival and 2100m above sea level.
To amplify the reveal, the campaign featured a live stream of the unique pop-up from its mountain location to shoppers watching at Westfield Stratford and Westfield London. This was additionally amplified with digital outdoor activity in Italy on the iconic outdoor site Le Vele in Milan.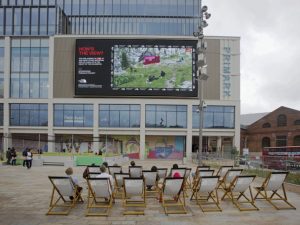 Reachable only by foot, the pop-up shop opened for 10 days to give fearless explorers the chance to see and feel iconic collectors' pieces – worn by some of the most impressive explorers of modern times – before they went to auction.  The live stream was broadcast for an hour and featured areas of the site and attendees, entertainment, shots of inside the pop-up store as well as drone footage of the store against the impressive backdrop of the Dolomites.
The iconic opening kicked off The Pinnacle Project by The North Face: inviting rebellious spirits to unite in exploration, through a unique collection of live experiences combining outdoor, fashion, design and music. Beyond the Italian event, fans have been able to experience the Pinnacle Project via an event at Bread && Butter in Berlin and at an upcoming execution in Manchester in the fall.
The North Face was looking for an exciting and dynamic idea to launch The Pinnacle Project and bring its mountain top pop-up and its unique contents to The North Face fans that couldn't make the journey.  These live screenings at the Westfield sites truly captured the public's imagination and helped build huge anticipation for the auction.
James McEwan, MD at PSI added: "The capabilities of digital out-of-home are evolving all the time because of technological developments within the medium.  We've effectively used these striking digital sites as a broadcast medium to bring this incredible event to audiences across London, in close proximity to stores to encourage fans to pop and explore the latest North Face collection."
Source: Posterscope