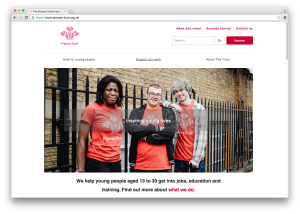 Youth charity The Prince's Trust has partnered with independent agency Rufus Leonard to launch a refreshed visual identity and newly redesigned website offering an improved user experience for young people and supporters.
The new Prince's Trust website has been designed by Rufus Leonard to be mobile responsive, accessible and easy-to-navigate, with clear user journeys and more engaging content for young people.
The website is a key line of communication and engagement for the charity, offering vital support, help, and information as well as online enquiry forms for young people looking to find out more about the charity's programmes.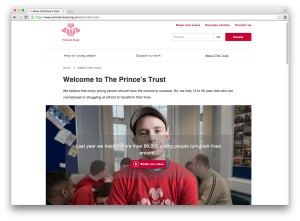 The newly designed platform aims to meet the needs and expectations of the vast numbers of young people who turn to the charity for help to move into work or training. Rufus Leonard has also refreshed and adapted the charity's visual identity for the new website. The sleek new look also aims to appeal to young people and potential supporters, fully showcasing the positive impact the charity is having on young people across the UK.
Rufus Leonard held focus groups with youth ambassadors to assess the perception of The Prince's Trust before embarking on the redesign. Rufus' co-founder and chief executive Neil Svensen is on the board of The Prince's Trust and the agency is also offering work placements to the young people supported by the charity.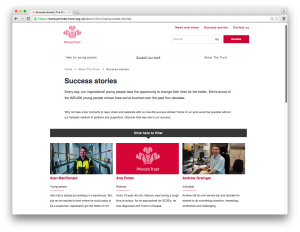 The new platform will serve as a springboard to help the charity achieve its target of supporting more young people each year.
Paul Brown, director of marketing and communications at The Prince's Trust, said: "For thousands of young people, a visit to our website – often from a mobile device – is the first stage of their journey with The Prince's Trust. Our new website aims to make this experience as engaging as possible, with clear navigation, helpful information about our programmes and easy ways to get in touch. We're extremely grateful to Rufus Leonard for their help to design a fantastic new website that will help us engage with our supporters and reach more of the young people who need our help."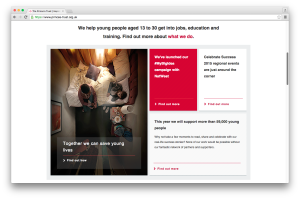 Louise Jorden, creative director at Rufus, said: "Creativity in its communications and the way it delivers its products and services is key to driving awareness and uptake for The Prince's Trust. Their audience is a group of young people who often feel disengaged and let down by society. This is about much more than just a website – it's about creating something which talks their language and really making a difference to someone's life. As designers it is such a privilege to get the opportunity to have such an impact. The site will play a major part going forward in powering The Prince's Trust's mission for the next couple of years. We're really proud of the result."