Nike has launched an inspirational campaign that takes fans into the locker-room of the Turkish national team for a half-time speech by their captain, Arda Turan. Part of the brand's global football platform 'Spark Brilliance', the integrated campaign aims to inspire young players in Turkey and all over Europe.
When a team is down, when a game is going against you, it takes a brilliant leader to turn that around. Arda Turan is that kind of guy. One of the greats of Turkish football, he has the ability to spark brilliance and turn his team around, to change the course of a game with his actions and his words.
The national campaign, created by Wieden+Kennedy Amsterdam, kicked off last week with 60-second TVC 'Half-Time Speech'. To enable viewers to fully immerse themselves in Arda's speech, Nike have now revealed a 360° version of the film complete with binaural sound, which launched last night during Turkey's match against Austria.
The speech was co-written with Arda to create an authentic experience for the viewer. The film celebrates the team's spirit as Arda reminds them, and the kids watching the film, that their core strength as footballers comes from the streets. It comes from the fast, frenetic and incredibly tough style of play that happens everyday on the streets of Turkey. Survive that, and you can play anywhere.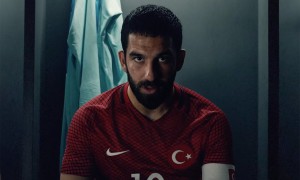 Speaking about the project, W+K Amsterdam Creative Directors, David Smith and Craig Williams, said: "Often 360° technology is used as a gimmick, but in this case, we really felt that it added to the experience. The circular nature of a team huddle with all the players gathered around the captain lends itself to using 360° cameras. As did the binaural sound, which amplified the viewer's sense of being right in the middle of an amazing team moment."
In addition to the TVC and 360° online film, the campaign also includes digital and social activations, print, and in-store Turkish events later this month, which will allow fans to get an even more immersive experience via VR headsets.