Deezer, the world's most diverse, dynamic and personalised music streaming service, has launched its first ever fully immersive augmented reality (AR) music experience, leveraging a new and specially created Snapchat lens.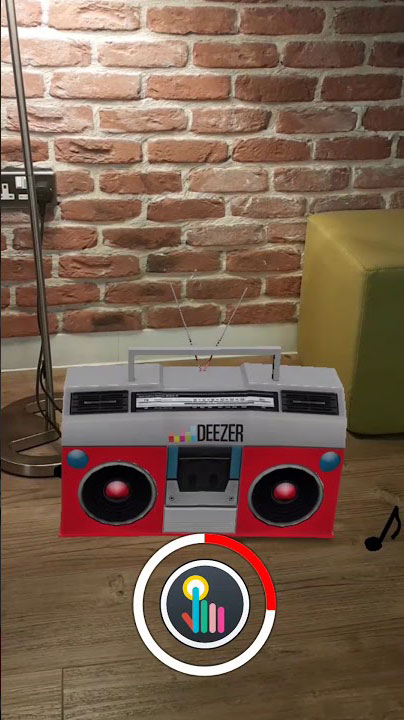 With AR usage expected to increase to 200 million this year, Snapchat influencer platform, Fanbytes, created a bespoke piece of content based on a Deezer branded AR boombox that can 'dance' to the beat of any song the user is playing. This was distributed through Fanbytes' network of Snapchat influencers, encouraging people to create fun Snapchats with the boombox.
With millennial audiences becoming increasingly resilient to traditional advertising, the Deezer boombox is designed to captivate a 16-25 year old UK audience through a shared love of music. The lens was promoted, through Fanbytes' influencers, for just 24 hours and users were encouraged to scan a custom code in order to unlock it for their Snapchat profile.
It clearly resonated with millennials with:
1,000,000+ views of the boombox lens
46,887 scans a 'Snapcode' and deep link which, when tapped, will open the lens within Snapchat for 24 hours
11,400 shares of the boombox lens
3,000+ creating videos around Deezer
Tim Armoo, CEO of Fanbytes commented: "We know that there is increasing ad blindness amongst the millennial audience, so empowering them to create content willingly around a brand is special to see. Having over 1m millennials view the lens in action, with 10'000s creating their own lenses and sharing with their friends simultaneously hits brand awareness, engagement and advocacy with one punch!"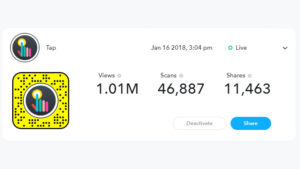 Bianca Spada, Global Head of Social Media, Deezer commented: "Interacting with music fans through social media is incredibly important to us, combining user's favourite songs with fun AR content to bring them closer to the overall Deezer experience. The campaign with Fanbytes beat all of our expectations in such a short amount of time and we continue to look for innovative ways to engage with millennial in 2018 and beyond."
Fanbytes creates its bespoke AR adverts through a crowdsourced network of designers and editors, all aged between 17-23 years old, before distributing it through its network of Snapchat social influencers. The company's 23 year old CEO Timothy Armoo, believes that it's important for young employees to create adverts that target millennial audiences, in order to truly get under the skin of that audience.
Source: Deezer