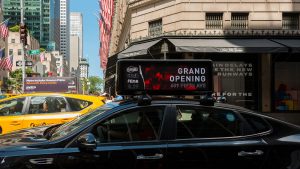 Havas Media Group drives full speed into the future of programmatic advertising with the launch of its latest campaign for PUMA in partnership with Firefly, the company leveraging taxi and rideshare vehicles to build a smart city media network.
Using Firefly's geotargeting technology, Havas Media will serve hyper-relevant content around the grand opening of PUMA's retail store on Fifth Avenue in New York. This activation, the first and only optimised for 'out-of-home in-motion,' launches August 5 and runs through September 2, 2019. The campaign and media deal was facilitated by Whisk Agency.
Optimised for 'in-motion,' the campaign geo-targets consumers across different locations and times of day, delivering memorable, high-impact motion graphic content promoting the new stores address. Taxis will deliver this message to high-traffic areas including major airports, tourist attractions, athletic fields, and existing store zip codes.
A first for PUMA, this campaign expands out-of-home (OOH) beyond fixed ads and insights, with its situationally aware digital smart screens determining campaign direction and ad frequency based on driver routes, area demographics, and traffic patterns. 
"In an effort to highlight our brand new Flagship retail store on Fifth Avenue, we want to reach New Yorkers in a way that feels local and relevant," said Adam Petrick, Global Director of Brand and Marketing at PUMA. "Havas Media's strategic insights, coupled with Firefly's technologies, allow us to drive awareness of our different product lines among audiences who want to see them."
"People today demand authentic, personalised experiences," said Firefly co-founder and CEO Kaan Gunay. "While digital both fosters and feeds that desire, PUMA and Havas Media have tapped into programmatic to take it a step further, highlighting what the future of advertising holds." 
The internet-connected technology that enables Firefly to serve timely location-based messaging affords advertisers robust data sets. With digital ad spend projected to reach over $129.34 billion in 2019, this latest innovation bridges the gap between digital advertising and traditional OOH to drive unprecedented scale in programmatic buying. Along with more precise placement abilities and enhanced visual content, these optimised metrics allow Havas Media to drive consumer engagement and increase campaign performance for PUMA.
"Amidst an ever-moving push toward digital, our clients are looking for meaningful media opportunities to more accurately measure the impact of out-of-home. Firefly offered us that ability by giving us an impressions-based metric to track, wrapped up in a super creative execution," said Havas Media Group's Global Chief Strategy Officer Greg James. 
Source: Havas Media Group