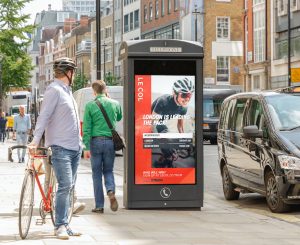 As the world's handlebars have turned towards France this July for the Tour de France, British cycling brand Le Col wants to challenge cyclists of all abilities to get active and ride for their local area to prove they belong to the strongest cycling county.
To do this, Le Col has launched a Tour de France challenge with social platform Strava and partnered with Clear Channel to launch a groundbreaking DOOH campaign throughout three weeks of the Tour de France.
Le Col is ranking local areas in the UK based on live cycling activities logged on the Strava platform during Le Col's Tour Challenge. Strava, the social network for athletes with over 42 million members, uses GPS to allow cyclists to log and share their rides. The data is then dynamically displayed across the country, meaning riders are able to see how they can affect their county's standing on a daily basis and in real-time.
The tour challenge is the first time that Strava data has been used live within a DOOH campaign. As the cyclists cover off kilometers, their rides are logged against their relevant county. Every time the creative plays out, the local distance count is displayed, alongside a neighbouring county's counter.
For example, the famous cycling county of Yorkshire are able to see, via the live updates, how much they need to pedal to stay ahead of riders in Lancashire, and cyclists in Cardiff can see how far ahead/behind they are, compared to their neighbours in Swansea.
The challenge itself launched on the 6th July and runs to the 26th, and providing the user has signed up to the challenge – all rides logged on the Strava platform within the time period count.
In the two days since the challenge launched, over a million rides have been logged by riders, with over 500,000km covered in the UK alone. 100,000 km are from London, with Hampshire and West Yorkshire follow behind with around 17,000 kilometres each.
Live update data will be provided at outdoor locations in Aberdeen, Bournemouth, Bristol, Brighton, Cardiff, Devon, Derby, Dorset, Durham, Edinburgh, Glasgow, Gloucester, Lancashire, Liverpool, Lincoln, London, Manchester, Nottingham, Portsmouth, Southampton, Tyne & Wear, South Yorkshire and West Yorkshire, until 23rd July.
"Cycling brings out the competitive nature in people, whether it's going faster or further than the riders you meet on the road. That's why we wanted to give people a new way to interact with the stats from their ride. This July, riders across the UK can represent their local area and go head to head with other regions," explains Le Col founder, and former pro-cyclist Yanto Barker. "Over the past year, over 1.2 million cyclists have signed up to our Strava Challenges, so the Tour Challenge, along with our live billboards, will prove once and for all who the best and most active cyclists in the country are."
Richard Bon, Clear Channel's Managing Director says: "Campaigns like the Le Col Challenge are a delight to see on our streets. As an avid cyclist myself, It's great to see a brand encouraging millions of people to get on their bikes throughout July. The innovative use of Strava data, combined with a bit of competitive spirit and local pride, is a masterclass on how to use Out of Home to its optimum."
Source: Clear Channel