O2 and the NSPCC have launched a quiz pitting the digital knowledge of parents' vs kids to encourage families to have conversations about their online activity and help to bridge the generational language gap.
The need for the game, created by VCCP and available on Amazon Alexa, is highlighted by research commissioned by the partnership showing  nearly half (48%) of parents with children aged between 8 and13 years feel confused with the language that younger people  use.
The survey of 1,000 parents and children aged between eight and 13 also revealed  young people are now more equipped to speak confidently about who has the most views on YouTube or celebrity culture rather than topics taught on the school curriculum, including history, politics and science.
54% of children knew that Zoella is one of the most viewed stars on YouTube compared to just (17%) of children who knew who invented the internet.
In contrast parents often feel confused by the language that their children have adopted, from the latest acronyms to the sometimes cryptic meaning of emojis. More than a third (39%) stated that they felt there is a language divide between generations.
O2 and the NSPCC are working together to show parents and children that sharing knowledge is the key to bridging the digital divide, with the Parents v Kids' quiz being the latest step on this journey..
Former Spice Girl, Geri Horner and her daughter Bluebell, aged 12, were the first to experience the inter-generational quiz via Amazon Alexa, before it officially launches today.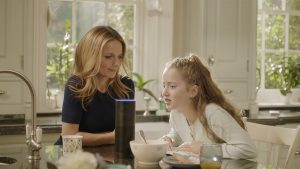 Speaking about the game Geri said: "Having a young daughter, myself, I can really relate to the differences in language between generations. I think it's great that O2 and the NSPCC are doing something to address it in a fun engaging way that appeals to both children and adults. There was definitely an element of competitive fun between Bluebell and I and it was a great way to spend time with her whilst learning from each other. She was very happy that she beat me, we will have to have a rematch!"
The research results also revealed what they do have in common and unveiled the top five emojis for both generations:
Smiling faces
Crying with laughter
Heart
Thumbs up
Winking face
The most commonly used acronyms across both generations included LOL, which assumed different meanings as parents also thought it meant 'lots of love' instead of 'laugh out loud'. 47% of adults and 51% of children stated they used it the most compared to other acronyms. BRB came in second with 22% of adults using this most commonly compared to 30% for children.
The Parents v Kids quiz is available on Amazon Alexa and is designed to be played between parents and children aged from 8 – 13.  The quiz features television presenter Lauren Layfield asking the kids questions, and comedian and Pointless presenter Richard Osman as the voice for team parent.
Source: VCCP