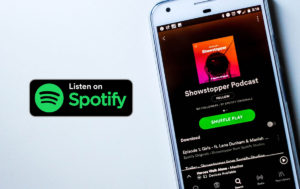 Spotify is celebrating its growing library of podcasts on International Podcast Day on 30th September 2018 with a one-day Twitter campaign developed by media agency UM, in collaboration with creative agency Byte and tech platform Blue Robot.
On 30th September, Spotify will be owning Twitter's most premium product, First View, where the first promoted tweet every active UK Twitter user will see that day will be featuring Spotify's expansive podcast collection.
Working with Byte and Blue Robot, UM is also creating a podcast recommendation bot as part of the ad unit, whereby users can select their favourite podcast genre and receive a bespoke podcast recommendation from Spotify, all while staying within the Twitter app.
With this campaign, Spotify is aiming to build awareness of its podcast library and continue growing its audience of podcast listeners on the platform. UM has already partnered successfully with Twitter to promote several Spotify Original podcasts since winning the account in 2017, such as 'We Need To Talk About' and 'Shaun Keaveny's Show & Tell'.
Olga Puzanova, Spotify's UK Marketing Director, comments: "We have had great success in partnering with Twitter on previous podcast campaigns. The platform is a great match for us given the obvious link between the topics that drive Twitter conversation and Spotify's range of current and thought-provoking podcasts.
"The new recommendation bot gives podcast fans a fresh outlet to find new spoken word content, both from the Spotify Originals catalogue and from the wider community of podcasts that live on the platform. With many new UK original podcasts launching on Spotify this month, and the recent addition of the BBC podcast catalogue, this is the perfect time to highlight the amazing range of podcasts on Spotify. UM has created an activation that plays perfectly into how people discover podcasts."
Russell Archer, digital account manager at UM, adds: "Spotify is a lot more than simply a music platform, as its huge catalogue of podcasts demonstrates. Partnering with Twitter with its First View takeover and our recommendation engine will give millions of people the chance to find podcasts on Spotify that appeal to their specific interests."
Twitter Client Partner, Sean Keyes, remarked: "We're really excited to be working with Spotify to celebrate International Podcast Day. We know music has an absolutely huge audience on Twitter, with 6/10 most followed accounts being artists. We're really excited to see how the rise of podcasts continues to grow, with this campaign offering a bespoke way for listeners to join the conversation on Twitter."
Source: UM