Vienna celebrates "Love for everyone". A very special wedding took place at Belvedere Castle: two world-famous AI women – Siri and Alexa – exchanged vows. The Viennese LGBTQ+ community celebrated the marriage of the language assistants in front of a crowded congregation which included Viennese LGBTQ+ celebrities Pandora Nox and Laksmi Wuggenig.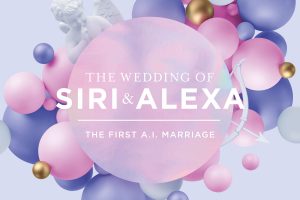 Serviceplan Campaign and Plan.Net Campaign from Munich together with the Vienna Tourist Board and Vangardist Magazine were responsible for the conception and implementation of the spectacular and colourful staging.
Vienna Tourist Board Director of Tourism Norbert Kettner explains: "It is a true pleasure and honor to host EuroPride in Vienna from June 1-16, 2019. Vienna is a cosmopolitan kaleidoscope – a modern world city, where different lifestyles, diversity and respect are actively lived and where our many differences are perceived as our greatest strength. EuroPride, with its multifaceted program, is the perfect occasion to celebrate and explore a city that has emerged from being a hidden gem to becoming a hot spot for the LGBT community."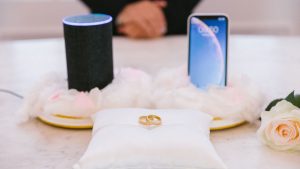 The publisher of Vangardist magazine, Julian Wiehl, adds: "With the first wedding of two artificial intelligences, we wanted to show that in 2019, smart devices can marry but not all people. Fortunately, marriage for all exists in Vienna, but in other countries the LGBTQIA+ community is still discriminated against. The EuroPride makes an important contribution to further reduce prejudices and malicious bad positions."
The wedding ceremony was made possible by the Alexa Skill "The Pride Skill" developed by Plan.Net Innovation Studio, which is officially available in the Amazon Skill Store.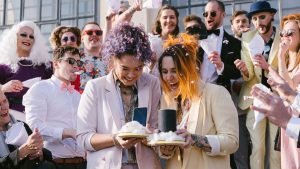 Markus Maczey, Creative Director of Plan.Net commented: "In addition to information about the EuroPride Festival, The Pride Skill contains a very special feature: with a special trigger set [see below], a dialogue can be started between Siri and Alexa that leads to the symbolic marriage of the two language assistants. Only tools provided by Amazon are used for this."
Alexander Nagel, Creative Director of Serviceplan Campaign, adds: "It was fascinating to see how emotionally the wedding guests reacted to the marriage vows between Siri and Alexa. In the campaign, we were able to use technology in a skillful way to set an example for more humanity and equality."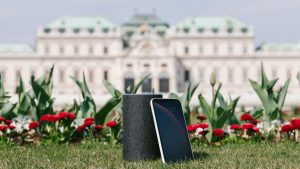 The wedding campaign conceived by Serviceplan Campaign, Plan.Net Campaign and Plan.Net Innovation Studio will start on 25 April 2019. The focus will be on video and photo material taken during the celebrations at Belvedere Palace, which can be seen in the digital channels in particular.
The campaign site provides additional content about the smart bridal couple: In addition to exclusive wedding pictures, several short videos tell the entire love story of Siri and Alexa – from the first date to the honeymoon. And anyone can download the skill themselves, marry their Siri to Alexa and get in the mood for EuroPride 2019 in Vienna at the same time.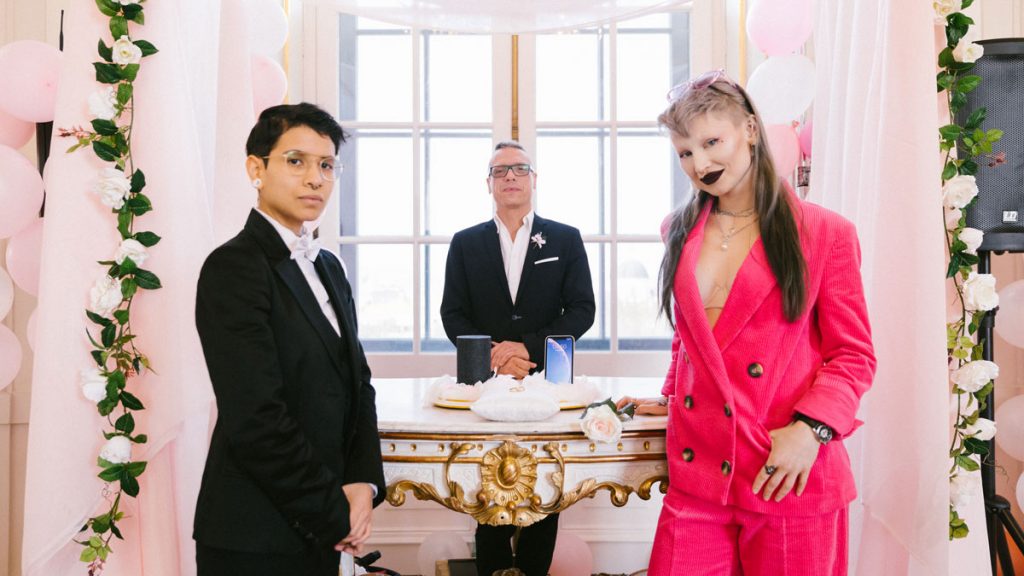 Source: Serviceplan Group