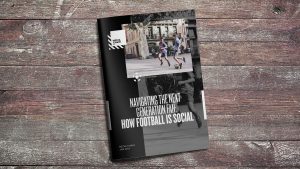 Instagram is the most popular platform for football content amongst fans, with 41% logging-in while watching matches, showing the significance its holds over sports marketing. A new piece of research, conducted by Media Chain, one of the largest social-first publishers in the world, sheds a light on content consumption and the social habits of the next generation of sports fans, a key demographic for the multibillion-pound industry.
64% of fans check Instagram for sports content at least once a day, while 58% check Facebook, which follows close second. While football clubs strive to provide the best social content, fan channels outperform the top Premier League clubs on Instagram, Facebook and YouTube.
Younger fans are moving away from traditional TV to social media – 64% prefer sports coverage on social media compared to traditional channels like TV, while  48% watch sports content on YouTube more than TV. These fans want to see the action as it happens and will sacrifice quality for speed. 57% would prefer to watch goals immediately rather than wait for broadcast quality coverage later.
Surprising, 28% of fans watch Instagram stories before scrolling down the newsfeed, as more brands provide more immediate content to fans. These statistics show how consumer behaviour is rapidly changing – driven by the technological advances social media offers – with the most successful brands embracing it. The study revealed that sports fans' favourite brand is , followed by Nike and Puma, all brands with a prominent social presence.
To generate the research, Media Chain spoke to 1,600 sports' fans from their social sports communities, including SPORF, The Football Republic and Full Time Devils. The full survey provides an in-depth look at how brands can best connect with the next generation of football fans on social in 2019.
Sports sponsorship and football fans have had a rocky relationship, with 35% of fans feeling like brands don't understand them when marketing to them. About a quarter of fans feel that brands can be unauthentic and unentertaining on social, with younger fans being significantly more critical of sports sponsors on social media.
Over the years, poorly executed campaigns delivering the wrong messages at the wrong time in the wrong tone has created a disconnect between brands and fans. With a 360 degree view of sports media, the Next Gen fan is far more aware of when they are being sold to.
"The next-gen fan is complex and they want to be spoken to on their terms. The social landscape in football is diverse and every set of fans are different cross-platform," says Richard Johnson, Media Chain's Head of Sport. "To create a great marketing strategy in the sports space, brands must get out of their comfort zones and adapt to what fans are actually demanding from their social networks. The fundamentals of marketing remain the same. Brands simply need to understand that in order to take a truly social-first approach, they need to think fans first."
Media Chain is one of the largest social-first publishers in the world. It has grown industry-leading communities across gaming, sports, food, fitness and other major consumer passion points. Every month, Media Chain's content reaches over a billion people through 80 million followers. Using expert knowledge of social platforms and unrivalled audience insights, Media Chain help the world's biggest brands create conversations online.
Key Stats:
Fans want to watch goals now not later. They'll sacrifice quality of content for speed, they want to be kept up to date with the action in real time. 57% suggested they'd watch goals now on social rather than waiting later for broadcast quality coverage.
A third watch stories first before scrolling down the newsfeed. If brands are working with Instagram, a third of their budget should be assigned for stories.
Younger fans are significantly more critical of sports sponsors on social media. Millennial and Gen Z fans are 61% more likely to share negative opinions of brand's online activity.
Young fans prioritised content that makes them laugh over offers and discounts, this was the opposite for over 24 year old fans.
Fans want brands to give them access to sports content they can't get anywhere else. This is the most important thing to them in sports sponsorship on social.
77% of younger fans follow a YouTube fan channel.
48% watch sports content on YouTube more than TV, 64% prefer sports coverage on social compared to TV, 52% find sports news more engaging on social.
Brands sending them irrelevant adverts was the most annoying part of sports sponsorship on social.
The full results of the survey can be read in Media Chain's "Navigating The Next Generation Fan: How Football Is Social". The research piece can be downloaded online here.
Source: Media Chain