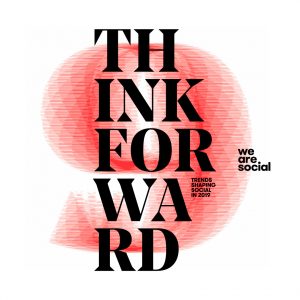 Brand owners must act quickly and decisively to deal with the fall-out from a tumultuous year in social media, according to global socially-led creative agency, We Are Social.
The agency has now launched its annual 'not just another trends' report, Think Forward, which also sheds light on how brands can best navigate this harsh new environment moving forward.
The report shows how social media developments such as surveillance and data capture, appropriation and homogenisation of consumer identity have affected the way people approach and use social media. This includes consumer upset at the behaviour of some social media, concerns about the perceived threat to personal identities, and a backlash against big data among the most disenfranchised.
This, in turn, has created a more complex and challenging environment for brand owners wishing to engage with consumers using social media.
By understanding the latest trends driving the use of social media and people's attitudes towards it – such as new masculinity, minority impact, fake authenticity, the democratisation of data, and more – brands can turn them to their advantage and harness the potential role they can play in driving cultural change.
Think Forward's aim is to provide brands with a framework for finding their voice in society without fear of igniting outrage or alienating their audiences. It explores the impact of social media developments from the past year and outlines the role of the brand in driving cultural change.
Mobbie Nazir, chief strategy officer at We Are Social commented: "In 2018, people have been pushing back on the intrusion of social media and big data into their lives. From #DeleteFacebook to backlash against data breaches, brands and platforms are facing the consequences of consumers who are no longer willing to give up their sense of identity as part of a value exchange. But despite this changing landscape, brands can still have a voice that speaks directly with consumers, as well as helping to drive cultural change. That's why this year's Think Forward focuses on helping brands to understand consumers' changing sense of identity. From ongoing culture and gender debates to the new rules of data, this report is a comprehensive guide to the most challenging media landscape we've known."
The social media trends brands must manage and embrace over the year ahead explored in Think Forward include:
Democratising Data – how to access data as consumers take more control over it
Fake Authenticity – the threats and opportunities from the rise of deliberate inauthenticity and fictional personas
New Masculinity – how to resonate better with men in the post- #MeToo era
Minority Impact – the potential of engaging marginalised groups
Local Legitimacy – the power of connecting locality
Source: We Are Social