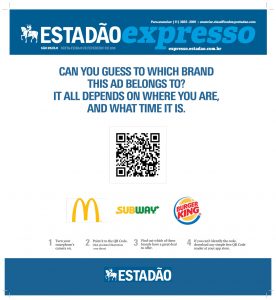 Isobar Brazil has created a media innovation that uses a QR Code to deliver promotional content from McDonald's, Burger King, and Subway, in a print ad. The new ad-format provides offers that are personalised based on the profile, time of the day and geolocation of the reader.
This is the first-ever product in the advertising market in Brazil to deliver a programmatic ad for print media. Developed in partnership with the newspaper 'O Estado de São Paulo', the pilot was released on Friday, July 26th, on Estadão Expresso and launched on Monday 5th August. The first content adverts are delivered for fast-food chains McDonald's, Burger King and Subway. The new format allows advertisers in the same segment to split the page and offer, in real-time, their best deals to the readers.
The print ad has a smartphone-readable QR Code. Both geolocation and time of the code reading will determine which offer will be delivered to the consumer. This way, it is possible to ensure that readers are impacted by the most relevant and appropriate offer for that moment, according to the stores closest to them.
Rui Branquinho, Isobar's Chief Creative Officer explained that data use will allow each advertiser to rethink its creative idea with the based on the ad's performance. "If an advertiser releases an offer at 8:30 AM and, within hours, realises that it has been losing ground to more aggressive deals from the other brands, its offer can be adjusted to become more competitive. The second phase (and 'evolution') of this new product envisions that participating brands can come up with 'more appealing' offers, even if they are not the closest or most convenient ones to the reader."
"This never-seen-before format created by Isobar reflects our focus on delivering relevant experiences to consumers. By bringing the programmatic model to offline media, the newspaper incorporates the efficiency provided by the digital environment. It is both unusual and beneficial for consumers and brands," said Ana Leão, Managing Director of Isobar São Paulo.
"It is a milestone in the transformation of an industry that has been being challenged; a new digital mechanics to generate new revenue streams through print. We invited for the pilot the fast-food segment, led by giants like McDonald's, Burger King and Subway. Discussions with brands from other categories are already at an advanced stage. Besides the importance of its unprecedentedness, this format can provide relevant offers, taking the communication between brand and consumer to another level and giving a new meaning to the print channel as a means to convey a message," commented Paulo Pessoa, Estadão's Sales Executive Director.
The mechanics and technologies applied to the project were developed by Isobar World Sourcing, Isobar development's centre, located in Porto Alegre. The programmatic strategy was designed in partnership with Amnet, DAN's programmatic media trading desk in Brazil.
Source: Isobar Brazil